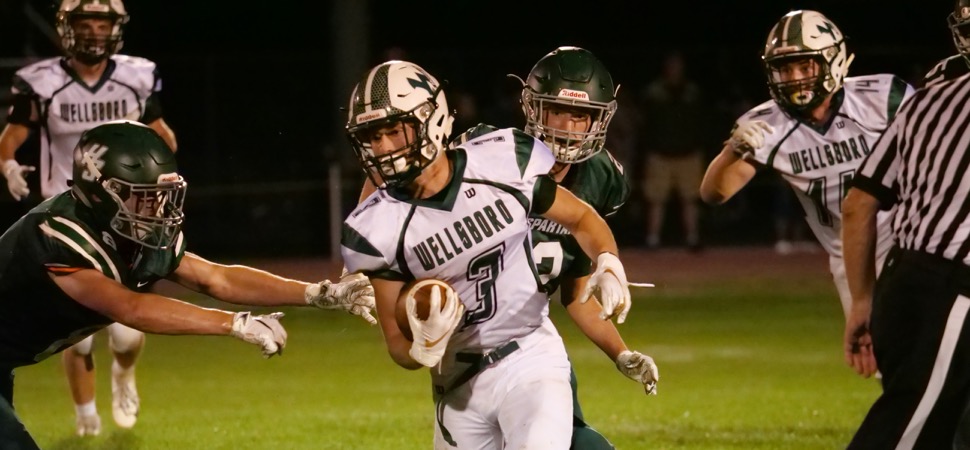 Hauser breaks 1,000 as Hornets hammer Hughesville
By: Ed Weaver | NTL Sports | September 21, 2019 | Photo courtesy Dr. Robert Bair
Aidan Hauser ran for 3 touchdowns, returned a punt for a touchdown, and threw a touchdown pass to help Wellsboro dismantle Hughesville on Friday, September 20.
Hauser also joined an elite group of former Hornet greats as he became just the 4th to rush for consecutive 1,000-yard seasons. Hauser (1,038), who rushed for 1,578 yards during his junior season, joins Tim Driebelbies (1,007, 1,102 in 1984 & 1985), Chris Morral (1,065, 1,037 in 1992 & 1993), and Quinn Henry, who is Wellsboro's only three-time 1,000 yard per season rusher (1,045, 1,074, 1,320 from 2015-2017), to accomplish the feat.
Despite a slow first quarter the Hornets took their first lead of the night with 6:39 to play. After holding the Spartans to a 3-and-out, Wellsboro put together an 8-play drive that ended with Hauser rushing in from 4 yards out. Junior Zach Singer made the extra point to put the Hornets up 7-0. The lead lasted until the end of the quarter, however, as Hughesville found the end zone with 11 seconds left.
"We had a great game plan this week," Hauser said. "We don't get a lot of respect down here in the PHAC as we like to say, so we did everything we could to take it."
Wellsboro and Hughesville traded drives ending in punts before the Spartans fumbled the ball over to Wellsboro, but a play later the Hornets fumbled the ball back over to the Spartans (their only turnover of the night) at their own 44. That spark gave Hughesville some momentum that they used to put together a 7-play, 44 yard drive, that ended on a 22-yard scoring run by Mikey Dylina to tie the game up at 7-all.
From that point on it was all Wellsboro as the special teams unit sparked a 41-7 run.
"We started a little slow off the bus which I was worried about with the long trip," head coach Matt Hildebrand. "We came out a little light but we picked it up and we were able to put some scores together right before the half that changed the complexion of the game, and I was happy about that. Our guys responded and they met the physicality, you hear the differences between the NTL and the PHAC, but our guys represented themselves very well tonight."
With 4:43 left before halftime Hauser returned a Dylon Pequinot 82 yards for a touchdown to put Wellsboro up 14-7. Wellsboro then capitalized off a Hughesviile fumble at their own 15-yard line to score again. The drive only lasted 3 plays but ended as Hauser took a toss-sweep from sophomore Isaac Keane then threw for his 2nd career touchdown to senior Logan Henry to make it 21-7.
Wellsboro scored once more before the half ended. Following a Hughesville punt Hauser broke off a 60-yard run down to the two the finished the drive a play later from a yard out, putting the Hornets up 27-7.
The Hornets added 3 more touchdowns on the night in the second half, two in the 3rd quarter and 1 in the fourth, before the final buzzer sounded. Three minutes into the second half senior Alex Burrell scored from a yard out. Hauser later scored his final touchdown of the night on a 3-yard run with 54 seconds left to go in the third, then junior Nick Smith busted out a 62-yard run with 14 seconds to go to put Wellsboro up 48-14.
Hughesville's final touchdown came on an 8-yard run by Colton Yocum with 2:50 to play in the 4th.
"We didn't know what all we were going to see this week on the defensive side of the ball. We saw on film they ran a little bit of spread and a little bit of the Wing-T so we had to prepare for two different offenses. This week was difficult to prepare but we made some nice adjustments and settled in very well Joe Brown stepped in and played well for us at linebacker, our secondary played very well, their quarterback has a heck of an arm and gets the ball out quick and I thought we did a great job containing their receivers and not letting them complete a lot of passes."
Hauser led all rushers on the night with 166 yards on 15 carries with 3 touchdowns, and was 1-for-1 for 10 yards on his only pass of the evening. Keane finished 4-for-10 for 31 yards, Smith ended the night with 72 yards on 2 carries, Burrell finished with 44 yards on 8 attempts, and freshman Conner Adams had 25 yards on 4 carries. Henry was the Hornets' leading receiver on the night with 3 catches for 27 yards and a score.
Defensively, junior Alex Moore and Burrell had 4 tackles each, sophomore Darryn Callahan made 5 tackles, Brown had 6 tackles, Henry had 2 sacks, and senior Clayton Orsborn led the team with 9 tackles.
Next up for Wellsboro (4-1, 3-1 NTL Large School Division) is a date with the Athens Wildcats (1-4, 1-3 NTL Large School Division) in the culmination of Homecoming week, where they have won their last 4 Homecoming games, on Friday, September 27.
"We want to enjoy the game but stay focused at the same time," Hildebrand concluded. "We have a lot of guys involved with Homecoming this year with all the seniors we have on the team, the biggest key is being able to stay focused and get good, quality reps during practice."