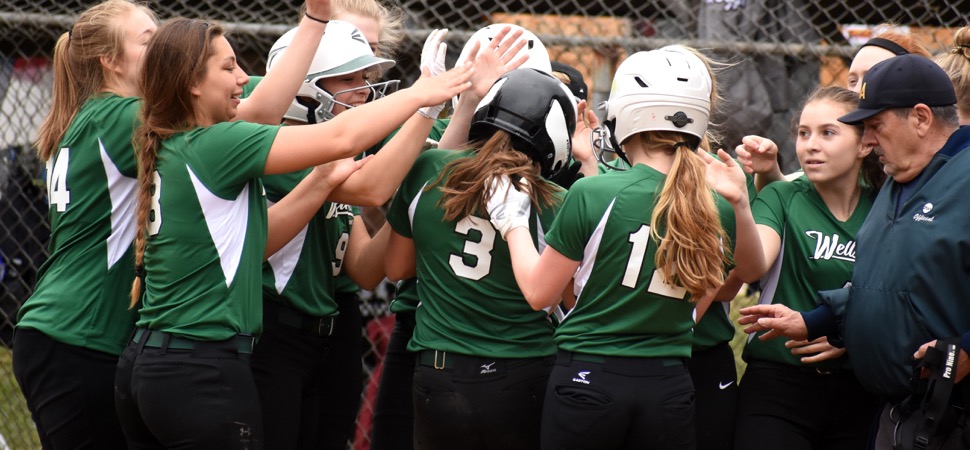 Clymer, Brought homer to lead Lady Hornets past NEB
By: Ed Weaver | NTL Sports | April 20, 2019
Sophomore Kerrah Clymer and junior Cathryn Brought each hit home runs and 2 RBIs in a 5-1 win against Northeast Bradford on Friday, April 19.
"Today was a important win for the girls," head coach Ron Brought said. "NEB is a strong team who, like us, only had one league loss. To go on the road and pick up the win showed what our girls are capable of. We played a complete game with dominant pitching, strong hitting and clutch defensive plays."
The Lady Hornets started out with two runs in the first inning, one each from Clymer and sophomore Jena Boyce and an RBI from senior Heidi Zuchowski. Northeast Bradford added a run in the bottom half of the inning to cut the lead to 2-1, but a home run by Brought in the top of the third extended Wellsboro's lead to 3-1.
Later in the fifth Clymer hit a two-run shot scoring her and junior Ryann Adams, who singled to lead off the inning, to push the lead to 5-1 and give Wellsboro the win.
Wellsboro had 9 hits on the afternoon, lead by Clymer and Adams who both went 2-for-4 at the plate. Sophomore Jessa Lohr, Brought, Boyce, junior Rileigh Gerges, and Zuchowski added the other hits.
Brought pitched a complete game to pick up her 5th win of the season on the mound. She allowed just 3 hits, 1 run (earned), and struck out 8.
"Cathryn was in command the entire game," continued Brought. "She never allowed the NEB hitters to mount any kind of offense. Our defense stepped up and made several plays including a clutch double play from Ryann to Heidi in the bottom of the 6th with the heart of their order up. As we have done all year, we out hit our opponents and today we came up big with two timely home runs to secure the game. I'm very pleased with our offense this season as we had hits in five of the seven innings with Ryann and Kerrah having multiple hits on the day."
The win improves the Lady Hornets to 6-2 overall and 5-1 in the NTL Large School Division standings. The team is back in action on the road in Wyalusing on Tuesday, April 23. Wyalusing currently sits atop the Large School Division standing at 6-0.