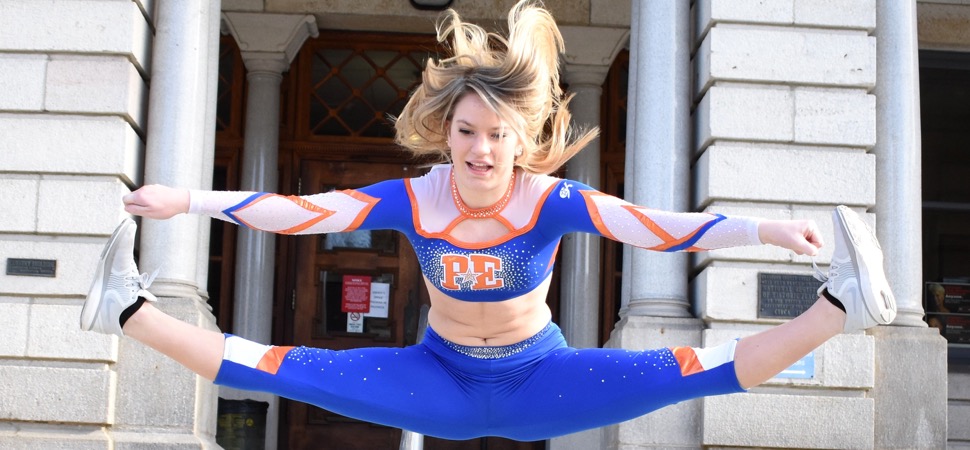 Canton junior makes cheer squad for prestigious game
By: Brian Fees | NTL Sports | February 14, 2019 | Photo courtesy Brian Fees
The Big 33 game brings the best of the best of Pennsylvania and Maryland to meet up on the football field.
While the game features the best football players in the two states, it also features the best cheerleaders among the states. When the game is held this year, Canton's Jadyn Ayres will be among those cheerleaders.
"It's amazing, I'm really excited to see how it works," the Canton junior said. "I tried out on January 27, there were two tryout dates. I had to tumble, stunt, jump and I had to learn a dance and a cheer. They called us out in groups of six and they called us about three weeks later."
The stuff Ayres had to learn wasn't that hard, but it was something they had to execute well.
"The cheer was really easy and basic, just stuff you had to execute good," Ayres said. "The dance was fun learning. They weren't extremely difficult."
Making the Big 33, is one of the biggest achievements for anyone. Very few from the NTL have ever earned the right to be a part of the game. Every Super Bowl has featured a Big 33 alumnus, including one from each Super Bowl team this year. Bam Brima of Loyalsock is the only District 4 player on the roster this year.
At the tryouts there was a lot of competition to make the team, but Ayres just focused on herself.
"I tried to focus on what I was doing," she said. "There were other people trying to do crazy things and I tried to do what I knew how to do."
Ayres, who cheers for Canton's competition team, along with the all-star Pennsylvania Elite team, has a couple of her all-star teammates who also made the game.
"There is another girl on the Pennsylvania team, her name is Zoey and she goes to Central Dauphin, where the game will be. And, there is a girl named Katie, on the Maryland team. Both are from my all-star gym."
There is a lot of excitement for Ayres getting a chance to cheer in the game.
"I am excited to cheer with them, doing something completely different," Ayres said. "I am really excited. I'm hoping it's going to be a good game and we have fun cheering for it."
Ayres didn't cheer at all the Canton football games last season, so she's excited to get a chance to start next football season a bit early.
"I am excited," she said. "I didn't do all of them for the regular high school season. I am excited I get to start before everyone else."
Ayres already has a busy schedule with high school, and her all-star cheer team, but she's excited to add some more practices to that schedule.
"The practices are about 3 1/2 hours away, it's like a week camp they have us do, so we probably will be staying down there," Ayres said.
The cheerleaders will do a performance at halftime, and routines throughout the game.
"There is a halftime show and we do routines throughout the game," Ayres said. "I'm super excited for my first practice to see what they have us do."
Ayres is hoping she can learn a lot at the game.
"I am hoping i can take stuff that will be good for college and will benefit me for cheering in college games, if I ever do that," Ayres said.
The Canton junior also hopes that making the team helps her get more looks from colleges in the future.
"I am hoping it's something i can put on my resume and it looks good," Ayres said.
No matter what comes from making the team, the biggest thing for Ayres is a chance to meet kids from throughout Pennsylvania, and Maryland.
"I am super excited to meet kids and create bonds with girls that I have never met before," Ayres said. "Just finding those relationships with those poeple.
"I am excited to keep up with them all on Instagram and Social Media."
The game will be at 2:00 p.m. on May 27 at Landis Field at Central Dauphin High School in Harrisburg.