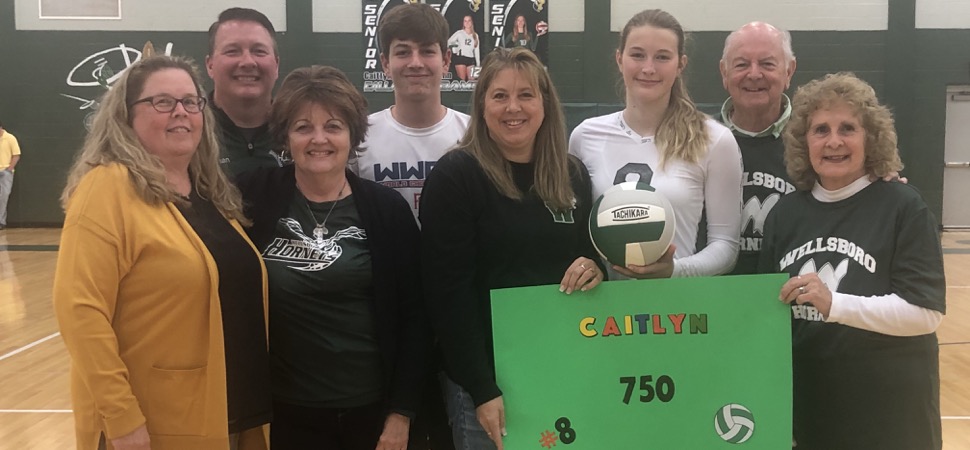 Callahan records 750th kill as Lady Hornets sweep South
By: Ed Weaver | NTL Sports | October 8, 2019 | Photo courtesy Ed Weaver
Senior Caitlyn Callahan recorded her 750th career kill as the Wellsboro Varsity Volleyball team swept South Williamsport on Monday, October 7.
Callahan needed just 16 digs coming into Monday's match. Late in the third set Callahan hit 750, then recorded kill #751 to end the match.
"I knew I was close and wasn't really thinking about it," Callahan said post-match. "I was thinking it would happen in one of the upcoming 3 matches but I'm glad I got it at home in front of fans, my family, and all my friends. I couldn't have done this without my teammates, my family, the student section, and everyone who has supported me throughout the years."
Callahan joins former Lady Hornet Hannah Zuchowski as the only two members of the elite club.
"I feel so honored to have my name (up on the banner)," continued Callahan. "It's just going to feel so great being able to come back to Wellsboro and see my name up there and know that I left my mark. And to show my future kids that I was actually an athlete, who knows if they'll believe it, it's going to be super cool knowing how much hard work I put into everything."
"I am very pleased to have the opportunity to see another player reach such an outstanding accomplishment," head coach Sharon Zuchowski said. "Caitlyn is the second Wellsboro player to reach 750 kills and that is quite an incredible feat considering tournament stats are not included. She is a strong hitter and will be a great addition to the college she chooses to attend next year."
Wellsboro dominated the match winning 25-2, 25-5, and 25-0.
Callahan had 17 kills on the night, senior Megan Starkweather had 11 points, 8 assists, and 3 kills, junior Shiloh Duff had 17 points (4 aces), and junior Bailey Monks had 5 kills. Junior Breighanna Kemp had 12 assists and 34 points (4 aces) to lead the Lady Hornets, as she went a perfect 25-for-25 at the service line in the third set.
Wellsboro started the night with a 2-0 (25-5, 25-11) win in the JV match to impove to 12-2 overall.
The win improves the Lady Hornets' record to 13-1 before they travel to take on Williamsport on Wednesday, October 9.