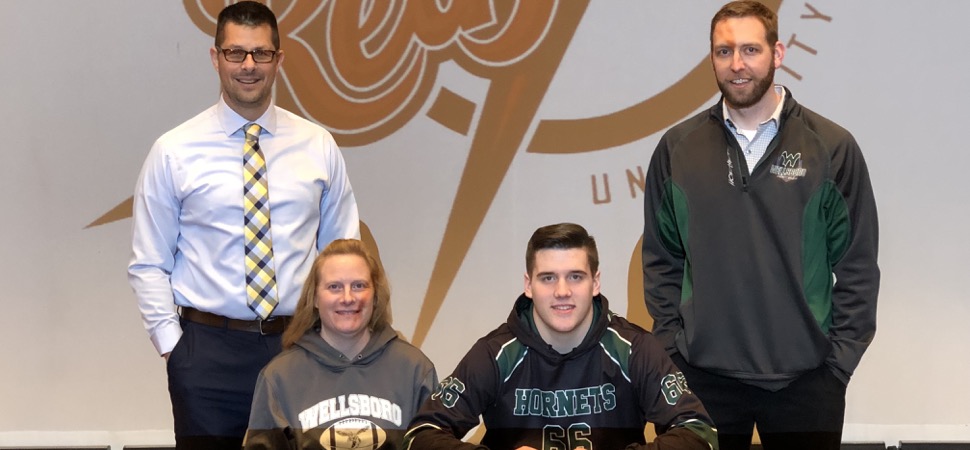 Brown signs Letter of Intent to St Francis
By: Ed Weaver | NTL Sports | February 6, 2019 | Photo courtesy Ed Weaver
Senior Hunter Brown signed his National Letter of Intent on Wednesday, February 6 to continue his football career at Division I St. Francis University.
"It feels really good and all the stress has been lifted off my shoulders with where I'm going next year," Brown said. "I'm proud to be a part of the SFU family and we'll see where it brings me."
Brown, the two-time defending NTL Defensive Player of the Year, has had a busy week as last week he was named to the PSFCA West All-Star team on top of other visits before committing to the Red Flash on Friday. Brown is also the first Wellsboro Football player to sign a National Letter of Intent since Wade Harlan signed a full athletic scholarship to the University of Buffalo.
After visiting campus, Brown instantly knew it was for him.
"It's a small campus kind of like Wellsboro," continued Brown. "Everything is close. I won't have to walk very far to classes which is nice and the team has potential to win. Looking at their schedule a lot of their games were close and hopefully going there I can help improve that."
Brown had a great final season in Green and White for Wellsboro, helping the Hornets reach the District IV playoffs for the sixth straight season. Brown led Wellsboro in tackles (105) from his defensive end position while also leading the Hornets in forced fumbles (4), recovered fumbles (3), and sacks (6) to become the Hornets' all-time career sack leader.
He also recorded a pick-six against Wyalusing and caught 4 passes for 73 yards and a touchdown against Troy in the District IV Class AA playoffs, his first time playing tight end.
One of the things that Brown is looking forward to it the competition.
"I like the competition and level of play at St. Francis and it will give me a better future."
For Wellsboro head coach Matt Hildebrand Brown is his first Division I signee.
"Hunter is a kid that has really turned himself into the football player he is today through hard work and the weight room," Hildebrand said. "He's always the kid that is out there doing extra. He led our team in (lifting) credits, he's led the team both on and off the field and he has great character. You can say a ton about the kid but he's one of the best that we've had through the program and he represents the school, the community, and the program really well."
One of the things Hildebrand noted about Brown is his room to grow while at St. Francis.
"There's a lot of versatility there and that's what a lot of the college coaches have said about him along with being surprised to see him all of the place. He can do so much for any program and St. Francis likes him and both tight end and defensive end, and were shocked to hear that Hunter only played one game at tight end in his career. That surface has barely been scratched and he has a lot of potential. St. Francis is getting a kid that they can mold to whatever position they see fit for him, and he's very coachable so whatever a coach asks of him he'll do it."