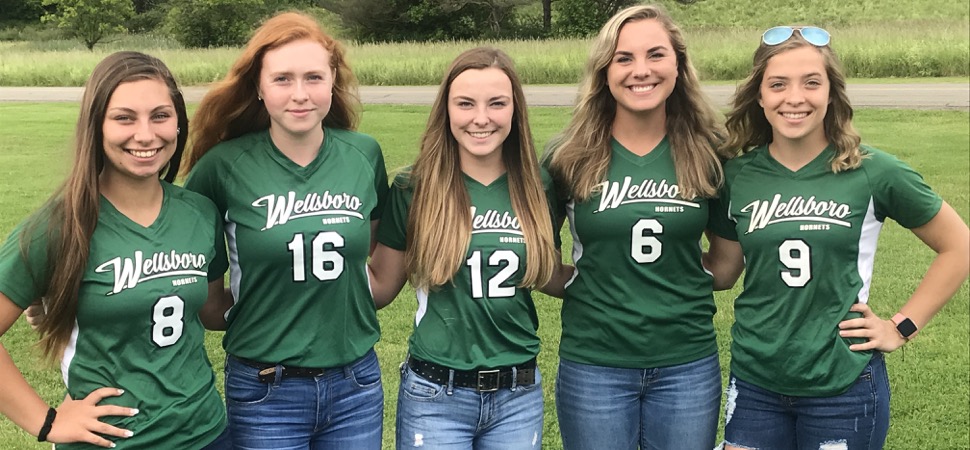 5 Lady Hornets named to NTL Softball All-Star team
By: Ed Weaver | NTL Sports | June 14, 2019 | Photo courtesy Ron Brought
5 members of the Wellsboro Softball team were named to the NTL All-Star team on Friday, June 14.
Junior Cathryn Brought (P) and sophomore's Kerrah Clymer (OF) and Jena Boyce (IF) were all 1st team selections and senior Hailey Neal (C) and junior Ryann Adams (IF) were 2nd team picks.
Boyce led the Lady Hornets at the plate this season going 25-for-68 (.368) with 22 runs scored, 3 doubles, 4 home runs, and 17 RBIs. Boyce was a perfect 9-for-9 with stolen bases and had a .879 fielding percentage.
Brought was 10-9 on the mound this season in 17 starts with 116 strikeouts. At the plate Brought was 18-for-62 (.290) with 12 runs scored, 2 doubles, 2 home runs, and 14 RBIs.
Clymer hit .303 for the season with 20 hits in 66 at bats to go along with 19 runs scored, 2 doubles, 2 triples, 5 home runs and 17 RBIs. In the field Clymer had 17 put outs, 7 assists, and a .889 fielding percentage.
Neal was 2nd in the Lady Hornets with 23 hits in 63 at bats (.365) and had a .429 slugging percentage. Neal scored 12 runs with 2 doubles, 1 triple, and 10 RBIs.
Adams hit .318 (21-for-66) in the lead off spot for the Lady Hornets with 16 runs scored, 3 doubles, 1 triple, and 11 RBIs.
WellsboroAthletics.com and WellsboroSoftball.com would like to congratulate Cathryn, Kerrah, Jena, Hailey, and Ryann on their selections.
View the complete 2019 NTL All-Star Softball team.