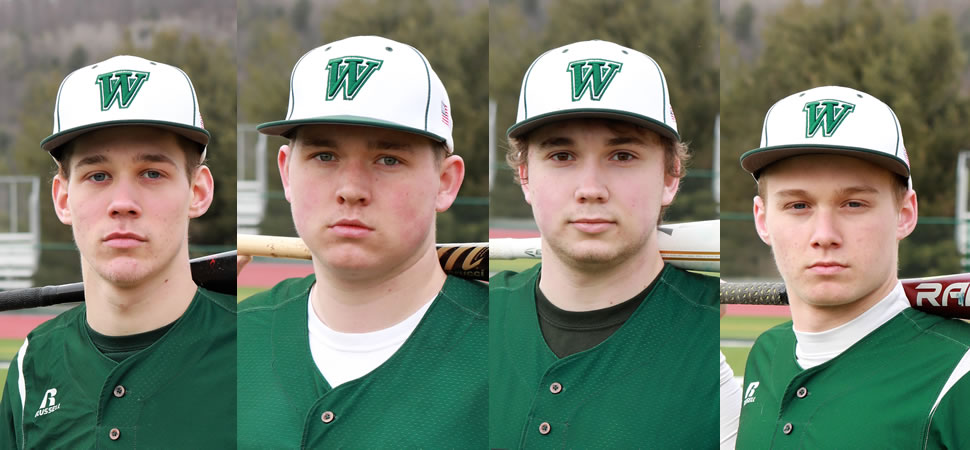 4 Hornets named to NTL Baseball All-Star team
By: Ed Weaver | NTL Sports | June 14, 2019 | Photo courtesy Sarah Wagaman
4 members of the Wellsboro Baseball team were selected to the NTL All-Star team on Friday, June 14.
Senior Cam Tennis and juniors Billy Lechler and Carson Davis were all 1st team selections and sophomore Zach Rowland was a 2nd team selection.
Davis led the Hornets with 25 hits in 61 at bats (.410) with 11 runs scored, 3 doubles, 17 RBIs, and 9 walks. On the mound Davis allowed 32 runs in 32 innings pitched with 29 hits and 28 strikeouts.
Lechler hit .397 at the plate going 23-for-58 with 10 runs scored, 2 doubles, 1 home run, and 20 RBIs.
Tennis led the Hornets on the season with 23 runs scored and was 23-for-63 (.365) at the plate with 3 doubles and 12 RBIs. Tennis finished his career 78-for-270 (.289) with 63 runs scored, 8 doubles, 44 RBIs, 23 walks, and 32 strikeouts.
Rowland hit .300 at the plate this season, going 12-for-40 with 11 runs scored, 1 triple, and 9 RBIs. Rowland threw 42 innings with a 1.27 ERA and allowed only 14 runs on 28 hits with 28 strikeouts.
WellsboroAthletics.com and WellsboroBaseball.com would like to congratulate Cam, Billy, Carson, and Zach on their slections.
View the complete 2019 NTL All-Star Baseball team.