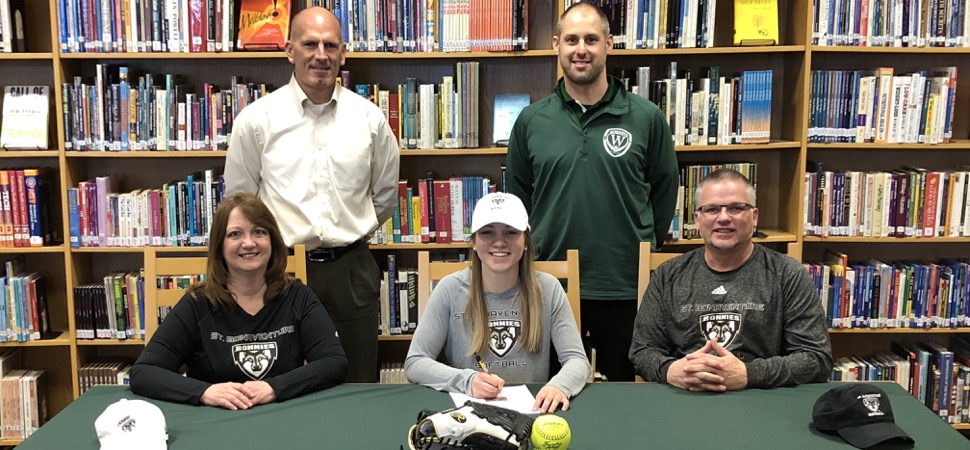 Yungwirth signs Letter of Intent to play at St Bonaventure
By: Ed Weaver | NTL Sports | March 19, 2018 | Photo courtesy Ed Weaver
Senior Alyssa Yungwirth signed her National Letter of Intent to continue her softball career next year at Division I St. Bonaventure on Friday, March 16.
Yungwirth gave her verbal commitment to Bonaventure back in November 9, 2017, but made everything official Friday afternoon and is looking forward to her new opportunity once her Wellsboro career comes to a close.
"I'm very excited, it's going to be a fun time," Yungwirth said. "I get to meet new people, start a new part of my life and I'm really excited for it."
One of the major factors that drew Yungwirth to St. Bonaventure was its closeness to Wellsboro.
"It's always nice to have my parents supporting me so they can come to my games. The atmosphere there is just awesome. I've been to a few basketball games this winter and it's just a fun time and I can't wait."
Since Yungwirth moved back to Wellsboro during her eighth grade year, she has been a constant force in the Wellsboro softball program. As a freshman she helped lead the Lady Hornets to the program's first-ever District IV championship. That year she recorded 24 hits and 2 home runs and went an undefeated 9-0 in 6 starts with a 0.96 ERA and 57 strikeouts.
As a sophomore Yungwirth had 20 hits and compiled an 11-4 record with 4 saves on the mound. She struck out 157 batters, allowed only 18 runs, and had a 0.88 ERA. As a junior, she went 16-2 on the mound while striking out 178 and led the Lady Hornets' offense with 38 hits, 22 runs, 6 doubles, 2 triples, 2 home runs, and 14 RBI's.
To top it off, Yungwirth is both a three-time Northern Tier League All-Star and All-State selection, was the NTL's 2016 Pitcher of the Year, and was the 2017 NTL Player of the Year.
Head coach Ron Brought is very proud of Yungwirth continuing her softball career.
"It's a pleasure to see Alyssa get the opportunity to play softball at the collegiate level," Brought said. "She has worked extremely hard for many years and has become a top player in our league and one of the best at her position in the state. I'm confident she'll have continued success at St. Bonaventure and I couldn't be more proud of her and her accomplishments."
WellsboroSoftball.com and WellsboroAthletics.com would like to congratulate Alyssa on continuing both her academic and athletic careers next fall.