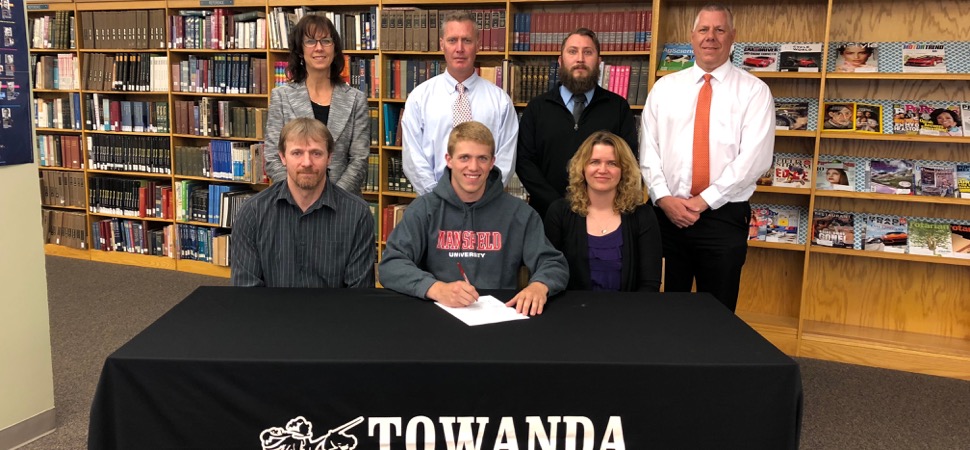 Towanda's Sites headed to Mansfield
By: Alfredo Torres | Towanda Daily Review | May 8, 2018 | Photo courtesy Alfredo Torres
TOWANDA — Griffin Sites of Towanda signed his letter of intent for Mansfield University where he will further his academic career and his athletic career by joining the track and field team.
Sites has enrolled in the fisheries science program at MU. He had a decision to make while deciding what the best fit was for him. His choices were narrowed down to Shippensburg University and Mansfield, before he chose MU.
"Other schools' fisheries science programs did not seem as good as Mansfield's so I chose them," Sites said.
Young athletes are faced with tough decisions when their time playing high school sports begins to run out. Whether they look to join the work force right out of high school, or are trying to find the best route to take in order to further their academic careers, kids like Sites begin to look at their options far before their time is up. As for Sites, he made it clear that his academic endeavors will be his first priority. While conducting his search, he contacted MU's track coach, Mike Rohl, who invited him to speak regarding the possibility of running for the Mounties.
"Being so close to home was also factored into my decision," he added.
The ability to be able to compete at a local school, and especially at Division II seemed to light up Griffin's eyes when he spoke about it. He displayed his excitement through the tone of his voice and smiling while saying, "I like it a lot, it's close to home, and I feel pretty privileged to be able to run track at a DII school."
Sites will be looking to compete in the 800 meter run and possibly the 1500 meter run during his time at MU.
"I feel like I'm there, but there is definitely more that I have to do to be able to compete at the college level," Sites said about where he stands in his preparation to take his athletic career to the collegiate level.
Mark Vail, Towanda's track and field head coach, was very excited about getting the opportunity to send Sites off to Mansfield.
"To me I think it is very special because that is my alma mater," Vail said. "I graduated from Mansfield and ran cross country and track there, so I'm pretty excited about it."
Tyler Spencer, Towanda's distance coach, who was also in attendance, spoke about the leadership that Sites brought to the team, "All the guys and girls look up to him, and they have for four years now," he said. "Anything we've asked him to do to, he's done it. He's talented enough that he can do anything on the track or on the field," Spencer added.
When asked if there were any other qualities that Griffin possessed that didn't include his exceptional sense of leadership, Coach Vail said, "His work ethic is unbelievable. He's spends most of the winter working out with coach Spencer. He's just a really hard worker and he's proven it."
"I've been doing this gig now for 24 years. There's always special kids, and he's one of my really special kids. I will miss him tremendously, not just what he does on the track for us, but just his personality. He's a really nice young man. ... He's gonna be missed a lot."
Coach Vail is also a part of the coaching staff for the Black Knights' football program. Vail noted that Sites was a very big part of what the program has done. "He lettered as a freshman for us," Vail said. "On special teams we could count on him to get us extra yardage on punt return, he's a really good tackler, he knew his position of outside linebacker really well, and he was a good runner. Once he made it into the open field he was hard to tackle."
One could consider Coach Vail's words to be quite heart-felt and honest. In many cases, coaches in this area take on the duties that come with coaching multiple sports just like Vail does. When coaches do this, there are a handful of kids who participate on each team they coach. So when they speak so highly of athletes, not only are they just being nice, they tend to genuinely feel that way deep down because they spent a great amount of time with each other, getting to see their character firsthand. Because of this, his compliments are very sincere, coming from a very credible source.