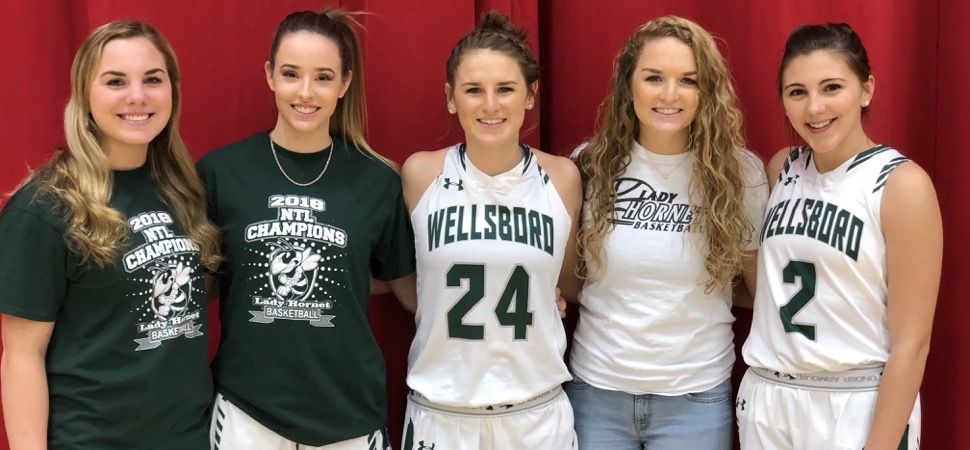 Self named NTL Player of the Year
By: Ed Weaver | NTL Sports | March 27, 2018 | Photo courtesy Ed Weaver
Senior Tory Self was named NTL Player of the Year on Monday, March 19, 2018.
In her first year as a Lady Hornet, Self had a phenomenal year to lead Wellsboro to an undefeated NTL Large School season. Self led the NTL, and Wellsboro, with 511 points. She also grabbed 125 rebounds, made 138 assists and 137 steals while recording six double-doubles and one triple-double.
In addition to Self, the four remaining member of Wellsboro's starting lineup were also named to the NTL Large School Division All-Star team.
Seniors Lizzie Poirier and Rachael Tuttle, junior Emma Poirier, and sophomore Cathryn Brought were all on the list.
Tuttle and the Poirier sisters were all first team selections while Brought was a second team pick in her first year in the starting lineup.
Emma Poirier was second in scoring with 313 points while adding 75 rebounds, 51 steals, 41 assists, and a double-double. Sister Lizzie Poirier was third on the team in scoring with 310 points and contributed 121 rebounds, 56 steals, and 49 assists.
Tuttle was second on the team with 132 rebounds after missing a large portion of the season with a knee injury. She also scored 69 points and had 43 steals, 11 assists, 10 blocked shots, and a double-double. Brought scored 129 points and led the Lady Hornets with 136 rebounds while pitching in 59 steals, 38 assists, and 5 blocks.
WellsboroAthletics.com and WellsboroBasketball.com would like to congratulate Tory, Lizzie, Rachael, Emma, and Cathryn on their all-star selections.
View the complete 2017-18 NTL Girls Basketball All-Star Team.