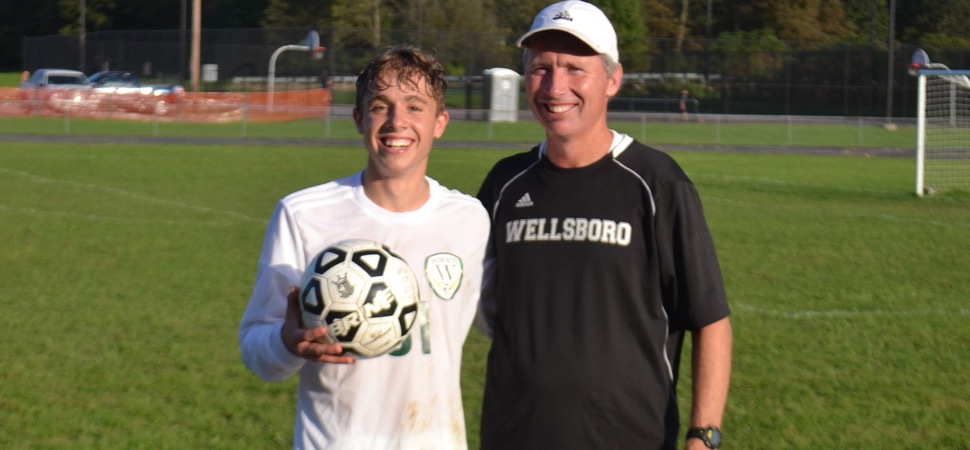 Rudy reaches 50 career goals
By: Ed Weaver | NTL Sports | September 21, 2018 | Photo courtesy Chrissy Tennis
Senior Brett Rudy scored his 50th career goal as the Wellsboro Varsity Boys Soccer team shutout Northeast Bradford on Thursday, September 20.
Rudy becomes the 4th Hornet in Wellsboro Boys Soccer History to reach the 50 goal milestone, joining Josiah Hill, Tanner Runyan, and Darby Alafoginis.
"It took some time but the boys remained poised and adapted to a wet and unforgiving surface against a good Northeast Bradford team," said head coach Todd Fitch. "They scored 4 goals, recorded a shut out, and Brett hit the 50 goal milestone. All in all, a pretty good outing."
Rudy opened the scoring at the 25 minute mark in the first half then later assisted sophomore Zack Rowland to put Wellsboro up 2-0 at the end of the first half.
Sophomore Will Poirier scored with 16:00 remaining in the second half off an assist to push the score to 3-0 then Rudy hit number 50 on an assist from senior Frankie Rexford.
The Hornets outshot NEB 12-6 and both teams took 5 corner kicks each. Senior Nate Redell picked up the shutout by recording 5 saves in goal.
The win improves the Hornets' record to 4-3 (4-1 NTL). The team will be back in action on Saturday, September 22 as they host South Williamsport.