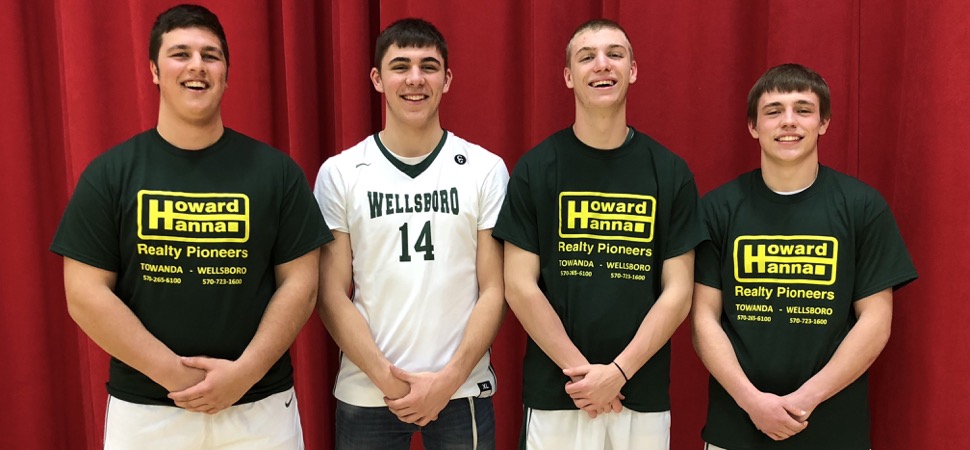 Prough, Tuttle named NTL Players of the Year
By: Ed Weaver | NTL Sports | March 27, 2018 | Photo courtesy Ed Weaver
Senior Dalton Prough and junior Brandyn Tuttle were named NTL Players of the Year on Monday, March 19.
Despite missing a few games at the beginning of the regular season to injury, Prough was named the NTL Player of the Year. Prough was the fifth leading scorer in the NTL this season, as he scored a career-high 383 points and became the newest member of the Hornets' 1,000 point club, and led the Hornets 86 assists, 23 blocks, and 65 steals.
Tuttle was named Defensive Player of the Year. Not only did Tuttle lead Wellsboro with 428 points this year, but he led the NTL with 313 rebounds and had 19 double-doubles.
Joining Prough and Tuttle on the NTL Large School Division All-Star team were seniors Quinn Henry and Collin Pietropola.
Henry was a first team selection while Pietropola earned second team honors.
Henry was third on the Hornets with 248 points, 96 assists, 84 rebounds, and 47 steals. Pietropola finished his final season with 191 points, 111 rebounds, 49 assists, 34 steals, and 11 blocks.
WellsboroAthletics.com and WellsboroBasketball.com would like to congratulate Dalton, Brandyn, Quinn, and Collin on being named the the All-Star team.
View the complete 2017-18 NTL Boys Basketball All-Star Team.