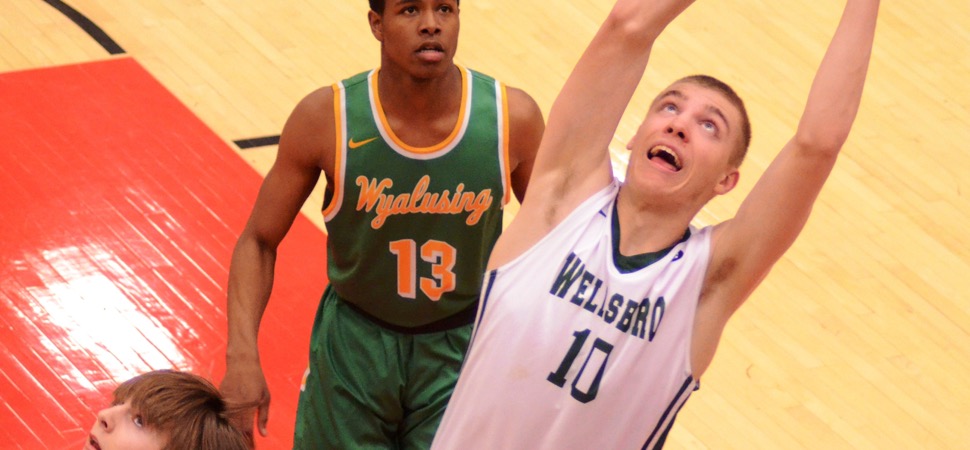 Prough named All-Region Defensive Player of the Year
By: Ed Weaver | NTL Sports | April 3, 2018 | Photo courtesy Brian Fees
Senior Dalton Prough and head coach Todd Outman were named Defensive Player of the Year and Coach of the Year by the Towanda Daily Review on Sunday, April 1.
Prough was named Defensive Player of the Year for the third consecutive year as he and the 2017-18 NTL Large School and District IV AAA champion Hornets held opponents to under 35 points per game for the season. Despite missing a few early games due to a shoulder injury suffered during football season, Prough managed to finish 2nd on the team in points (383), rebounds (147), and assists (86) and led the team in blocks (23) and steals (65).
Prough also capped a great four year career at Wellsboro by scoring 1,015 points. He reached the milestone in the Hornets' 53-47 win over Loyalsock in the District IV AAA championship game from the foul line.
"I think that it is an honor to be named DPOY three years in a row. It speaks volumes to the contribution I put into both ends of the floor," Prough said. "I'm glad that I can end my senior year with many honors from the Daily Review, Williamsport Sun-Gazette, and the NTL coaches. I also agree with Brian Fees that the award should be called the 'Dalton Prough DPOY'!"
In his last season as head coach of the Hornets, Outman guided the team to the program's first District title since 1951-52 and went 26-2 and finished undefeated (16-0) in the NTL Large School Division and claimed his third NTL Showdown championship. In his eight years as head coach of the Hornets, Outman compiled a 167-39 (.811) record overall and went 121-15 (.890) in league play.
"Winning the Daily Review coach of the year award is a nice honor. With that said though, I understand that such an accomplishment cannot happen without being surrounded by good people," Outman said. "This award would have not been possible without the dedication and commitment of the players buying into the new system we put in place this year. It would also not have been possible without Coach Chase Kriner. His dedication, commitment, and enthusiasm he brought to the program is immeasurable. I would also like to thank our athletic trainer, Alexis Knowlden, and statistician, Ed Weaver. Last but not least, I would like to thank the late Coach Griscavage. Without his tutelage prior to this year, I might not have been in this position to receive such an honor."
Joining Prough and Coach Outman on this year's All-Region team are junior Brandyn Tuttle and senior Collin Pietropola.
Tuttle joined Prough as a first team selection as he led Wellsboro in nearly every statistical category this season. The big man scored 428 points, grabbed 313 rebounds, and compiled 19 double-doubles throughout the course of the year.
Pietropola joins Prough on the All-Defensive first team. From his center position Pietropola grabbed 111 rebounds and made 72 steals. He also blocked 15 shots and was third on the team with 49 assists.
WellsboroAthletics.com and WellsboroBasketball.com would like to congratulate Coach Outman, Dalton, Brandyn, and Collin on their All-Region selections.
View the complete 2017-18 Towanda Daily Review All-Region Boys Basketball team.