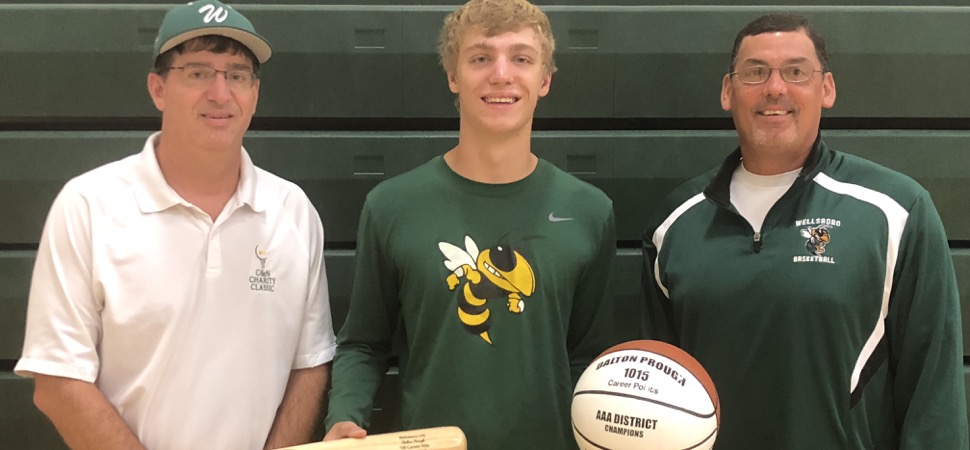 Prough honored by Athletic Department
By: Ed Weaver | NTL Sports | August 9, 2018 | Photo courtesy Ed Weaver
Senior Dalton Prough was honored by the Wellsboro Athletic Department on Wednesday, August 8 with a commemorative baseball bat and basketball in recognition of two career milestones.
During basketball season Prough became the 8th Hornet to accumulate 1,000 career points. Prough's 1,000 point came in another milestone for Wellsboro, as they captured their first District IV Class AAA championship since 1951-52, with a 27-point performance.
In addition, Prough also reached 100 career hits this spring during baseball season. Prough reached that milestone against Southern Columbia in the District IV Class AA semi-finals with two hits, the 100th coming on a bunt single. Prough also joins his brother Dawson Prough (124) in recording over 100 career hits.
"I would like to congratulate Dalton on achieving a couple of athletic milestones," said former head coach Todd Outman. "Scoring over 1,000 points in basketball and getting 100 hits in baseball is pretty special. Reaching one of these milestones in one sport is impressive, but being able to do it in two sports speaks volumes about his athleticism. More importantly though, is how he able to do it while putting his teammates and team success first. I never saw Dalton concerned about individual accolades. It was always about what do I need to do to make the team successful. I wish him the best of luck in his future endeavors."
"Reaching 100 hits in Varsity action is a great achievement," said father and former head coach Philip Prough. "Especially in today's era of BB-COR bats. Dalton is able to hit to all fields and is an excellent bunter. That's a dynamic a lot of hitters don't possess. As our lead off hitter, Dalton could apply pressure from his very first at-bat of the game.
"I'm glad our school recognizes such accomplishments for their players. It rewards those that work hard to improve while motivating future players to do the same. Dalton was one of many important players in our recent championship runs. I'm confident the returning players will continue that success and hopefully one or two of them will reach this milestone too."