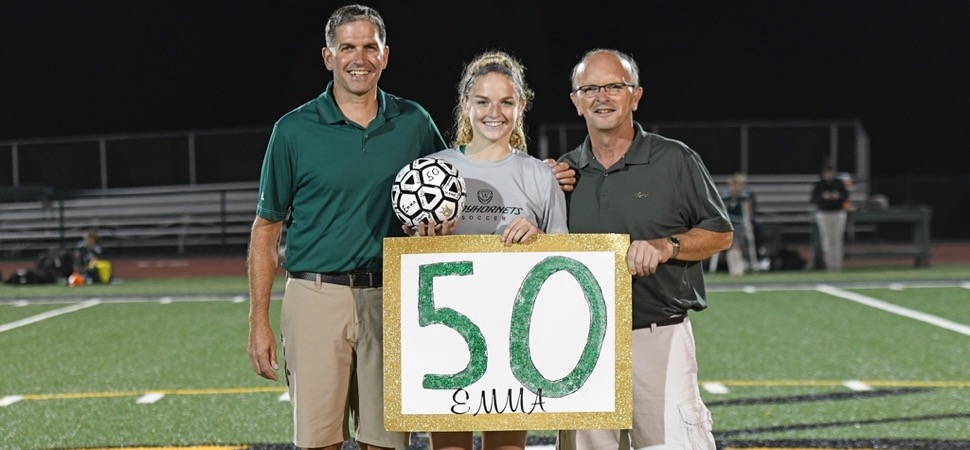 Poirier nets 50th career goal in 11-0 rout of Williamson
By: Ed Weaver | NTL Sports | October 9, 2018 | Photo courtesy Wendy Snyder
Senior Emma Poirier scored her 50th career goal as the Wellsboro Varsity Girls Soccer team shutout Williamson 11-0 and snapped a 4-game losing streak on Monday, October 8.
Coming into Monday's game Poirier needed 3 goals. After scoring a career-high 4 goals against Northeast Bradford she had been stuck at 47 for the past four games, all Wellsboro losses. Against Williamson, Poirier recorded her fourth career hat trick and hit the milestone on her final goal to join Alexis Getty (82) as the only Lady Hornets to score 50 goals in a career.
The Lady Hornets scored 8 first half goals to put the game in their firm control. Poirier started the scoring as she scored off a direct kick just over two minutes into the game. Sophomore Jena Boyce then scored off an assist from Poirier with 28:36 left. Poirier then scored with 26:53 on the clock before sophomore Kerrah Clymer scored back-to-back goals.
Clymer's first of her four goals came a minute after Poirier's second goal on a Boyce assist, then she scored with 11:35 as she converted a Poirier corner kick. Poirier's 50th career goal made it 6-0 in favor or Wellsboro with 8:22 remaining in the first half. She stole the ball away from a Williamson player then sent a shot past the goalie for the milestone.
Not even a minute after Poirier's 50th career goal Clymer struck again with 7:46 left for her own hat trick to make it 7-0. Boyce scored the 8th and final goal of the first half with 1:38 left on an assist from junior Cathryn Brought.
Wellsboro scored three more goals in the second half. Clymer started with 34:09 remaining on a Boyce assist. Senior Jessica McCarthy scored with 24:24 to make it 10-0 on Boyce's third assist of the game and junior Savana Baltzley scored unassisted with 8:11 left for the game's final goal.
Wellsboro took 25 shots on goal while holding Williamson to just 3. Freshman Lilly Abadi stopped all 3 shots for the shutout.
In the JV game the young Lady Hornets also came away with a shutout. Sophomore Madelyn Rudy scored all 3 goals to give Wellsboro a 3-game winning streak and improve them to 6-6.
The win in the Varsity game evens the Lady Hornets' record up at 7-7 (7-4 NTL). The team will be back in action on the road at rival North Penn-Mansfield on Wednesday, October 10.