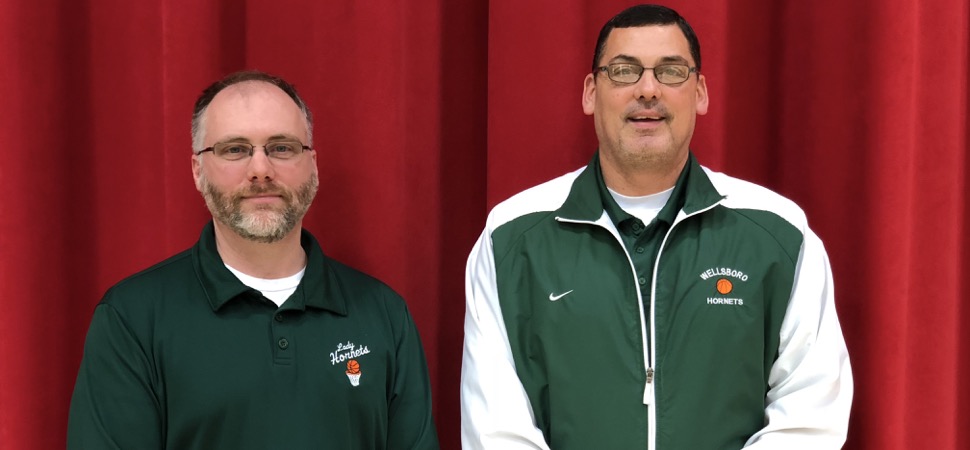 Outman, Davis win NTL Coach of the Year honors
By: Ed Weaver | NTL Sports | March 27, 2018 | Photo courtesy Ed Weaver
Wellsboro Basketball head coaches Todd Outman and John Davis were named NTL Large School Division Coaches of the Year on Friday, March 23.
Both Outman and Davis received the honor in their final years of coaching for Wellsboro.
"It's been a great year," said Outman. "I was really happy for the kids that we set our goal to win a district title, and it wasn't easy having to play Loyalsock, but in the end of it they came out on top. It was what they wanted to do and I'm really proud of them and happy for them. The accolades I get is only because of what they accomplish through their hard work and their dedication and I just get to reap some of the benefits of what they've accomplished."
In eight years Coach Outman compiled an overall record of 167-39 (0.811) and league record of 121-15 (0.890). Outman's teams won five NTL Championships, three NTL Showdown titles, and the program's second District IV championship, and the first one in 66 years (1951-52), this season.
2017 was the best year for Outman as the Hornets finished 26-2 and went undefeated in the NTL.
For Davis, 2017 was his best year as the girls' head coach. Davis' Lady Hornets went 21-4 overall and finished 16-0 in the NTL Large School Division to earn the top seed in the District IV Class AAA playoffs. In five years as the Lady Hornets' head coach, Davis went 76-46 (0.623) overall and 58-22 (0.725) in the NTL.
"I'm very blessed to have the kids I've had these last five years," said Davis. "The girls I've had were very hard workers, they loved the game and that's all I can hope and any coach would like that. I'm just very blessed to have that opportunity and I really enjoyed it."
WellsboroAthletics.com and WellsboroBasketball.com would like to congratulate Coach Outman and Coach Davis on being named NTL Large School Division Coaches of the Year.