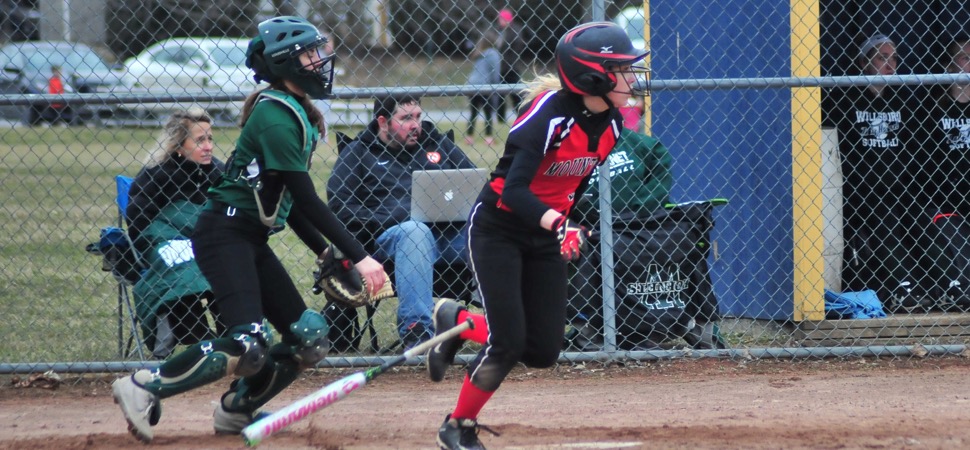 North Penn-Liberty tops Wellsboro in extra innings
By: Ed Weaver | NTL Sports | April 10, 2018 | Photo courtesy Charlie Berch
North Penn-Liberty's Sara Swingle hit a walk-off single to left field in the bottom of the 8th inning to give the Lady Mounties a 5-4 win over rival Wellsboro on Monday, April 9.
After holding the Lady Hornets scoreless in the top of the 1st, the Lady Mounties jumped out to an early 3-0 lead. Swingle drew a walk and Brooke Harvey was hit by a pitch to put two runners on for Savanah Doney. Doney singled up the middle to score Swingle then Mackenzie Heater hit a bloop single up the middle in the next at bat to score both Harvey and Doney before Wellsboro was able to get out of the inning.
Wellsboro managed to get a run back in the top of the 2nd. Senior Kailee Clymer got things started at the plate with a base hit then stole 2nd to get into scoring position. A base hit by freshman Jena Boyce up the middle scored Clymer to make it 3-1.
North Penn-Liberty held on to that lead until the top of the 5th when Wellsboro's bats woke up. Junior Tiana Lecker led off the inning with a single to left field and back-to-back base hits by sophomore Ryann Adams and senior Sydney Tremper scored Lecker to make it 3-2. In Wellsboro's next at bat freshman Kerrah Clymer hit into a fielder's choice. Liberty threw home to force out Adams to prevent the run, but the Lady Hornets still managed to tie the game as sophomore Cathryn Brought reached on an error to score Tremper to tie it.
Doney then ended the inning with back-to-back strikeouts with the bases loaded to keep it at 3-all.
Liberty went back on top in the bottom half of the inning as Harvey singled past 3rd base. Doney hit into a fielder's choice but remained on first as the Lady Hornets opted for the force out at 2nd. A Heater single put runners on the corners and Mariah Kshir was intentionally walked to load the bases for Emma Williams. Williams reached on an error to score Doney but Wellsboro caught Heater and tagged her out to end the inning, trailing 4-3.
The Lady Mounties maintained their one-run lead through the 6th inning, but Wellsboro kept battling to start the 7th. Kerrah Clymer led off with a triple to start the top of the 7th and later scored as junior Heidi Zuchowski hit a bloop single that died just past first base to tie it back up, but that's the only run the Lady Hornets would get.
Liberty went down in order in the bottom half of the 7th to put Wellsboro back up. After fly out by junior Hailey Neal, Lecker singled to right center field to put the winning run on board for Adams, but she hit into an inning-ending double play to end the scoring threat.
North Penn-Liberty used that momentum to go on and win the game in the bottom of the 8th. Williams reached on error as her lazy pop fly to 2nd popped out of Adams' glove. A sacrifice bunt by Ryley Kotulka moved Williams to 2nd, then was later moved to 3rd on a wild pitch by Brought as she walked Abby Heatley. Swingle then came up next in the order for her walk-off single to left field.
"It was an excellent ball game all the way through," said Mountie head coach Lynn Grinnell. "Good defensive, good offensive by both teams. Both teams came in undefeated and our girls worked hard. Right at the end they came through and Sara Swingle had to go-ahead single to left field to help us out, but the big thing in the bottom of the 8th was ran a pop fly out that dropped in there and she didn't give up."
"Statistically we had a better game than our opponent but stumbled out of the gate and that was the difference," said Hornet head coach Ron Brought. "Our pitching was better and we out hit them. They have an all-state pitcher that we hit well. We were able to get some of our younger players game experience against a team that played in the D4 Championship last year. That will certainly pay off later in the season. We're off to a great start and we're still improving. Our focus now is Athens on Wednesday."
Heater and Swingle both finished 2-for-4 for the Lady Mounties while Doney, Heatley, Harvey, and Williams added hits on the afternoon.
Lecker, Kailee Clymer, and Tremper went 2-for-4 to lead Wellsboro while Kerrah Clymer, Adams, and Neal went 1-for-4 and Boyce went 1-for-3. Adams also drew a walk.
Both Doney and Brought went the entire distance on the mound. Doney scored the win and both ladies threw 112 pitches each. Doney gave up 11 hits and struck out 6 while Brought gave up 7 hits and struck out 10.
The loss drops the Lady Hornets to 2-1 (2-1 NTL Large School Division) overall while North Penn-Liberty remains undefeated at 3-0 (3-0 NTL Large School Division). Wellsboro will be back in action on Wednesday, April 11 on the road in Athens.