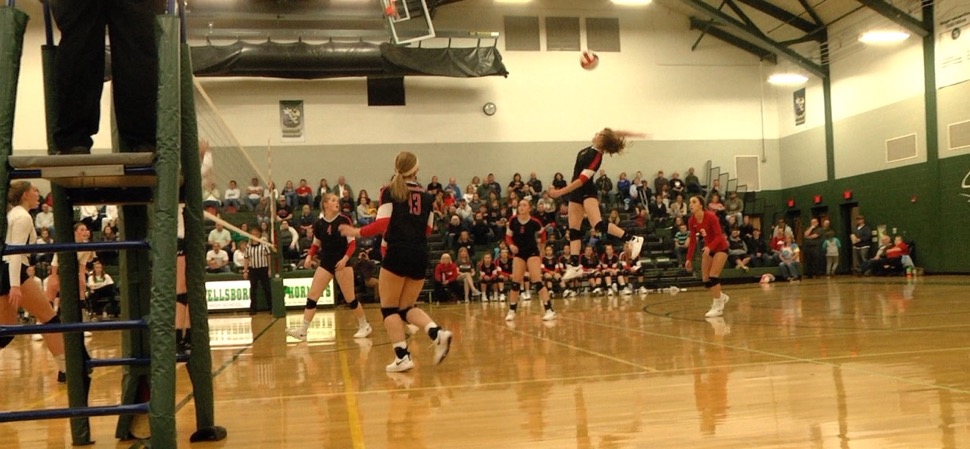 Liberty volleyball tops Wellsboro, 3-1
By: Ed Weaver | NTL Sports | October 19, 2018 | Photo courtesy The Home Page Network
In the highly anticipated rematch between North Penn-Liberty and Wellsboro, the Lady Mounties came out on top and kept their undefeated record intact on Thursday, October 18.
Wellsboro did something, however, that no team has done in the regular season since September 26, 2017 at Wyalusing, beat them in a set.
The Lady Hornets jumped out to an early 5-0. Liberty eventually battled back to within 13-10, but Wellsboro went on a 12-2 run to push the lead to 24-12. The Lady Mounties then rallied and ran off 8 consecutive points to cut the score to 24-20, but a serve in the net gave Wellsboro the set one win, 25-20.
North Penn-Liberty would go on to take the next three sets as they forced Wellsboro into multiple errors, ones they didn't commit in the first set. Liberty went on a 9-1 run to start the set before the Lady Hornets caught a break on a long serve. Eventually they battled back to cut the score to 11-9, but couldn't make up any more groud as Liberty went on 16-2 run to take the set, 25-11.
Again Liberty started out the third set with an early lead. After leading 7-3 Wellsboro went on a 6-2 run to tie the game up at 9-9. Both teams traded points until two blocks in four points gave the Lady Mounties a 16-12 lead. Liberty then went on to close out the third set, winning 25-18, on a 13-6 run.
Wellsboro held a slim fourth set lead for a few points. Tied at 3-3, the Lady Mounties went on a 9-4 run to to lead 12-7. Wellsboro fought back and got within a point at 13-12 before more errors caught up with Wellsboro. Liberty went on a 12-5 run to close out the set, 25-17, and win 3-1 to secure the NTL Large School Division championship.
Maddison Minyo led North Penn-Liberty with 14 points, 7 aces, 12 kills, 1 block and 6 digs; Ellianna Fry led in defense at the net with 7 blocks, 5 kills and 2 digs; JoAnne MacNamara added 14 points, 5 aces, 23 assists and 1 dig; Charisma Gregga added 13 points, 11 kills, 18 receptions and 17 digs; Brooke Harvey had 4 points, 2 aces, 12 kills, 12 receptions and 14 digs; Mariah Kshir had 8 points, 2 aces, 2 blocks, 17 assists and 7 digs; and Savannah Doney pitched in with 26 receptions, 11 digs, and 7 points.
For Wellsboro, junior Ryann Adams had 32 digs and 4 points, junior Megan Starkweather had 31 assists, 7 blocks and 4 points, sophomore Breighanna Kemp had 25 assists and 15 digs, and junior Caitlyn Callahan had 22 kills and 6 points. Senior Heidi Zuchowski led the Lady Hornets with 16 points, sophomore Shiloh Duff had 6 blocks and 4 points, and sophomore Bailey Monks added 3 blocks.
Liberty swept the JV match 2-0, winning 25-13 and 25-9.
The win improves North Penn-Liberty's record to 15-0 overall (12-0 NTL Large School Division). Wellsboro falls to 15-2 (10-2 NTL Large School Division). Both teams are back in action on Tuesday, October 23. Liberty hosts Williamson and Wellsboro travels to Northeast Bradford.