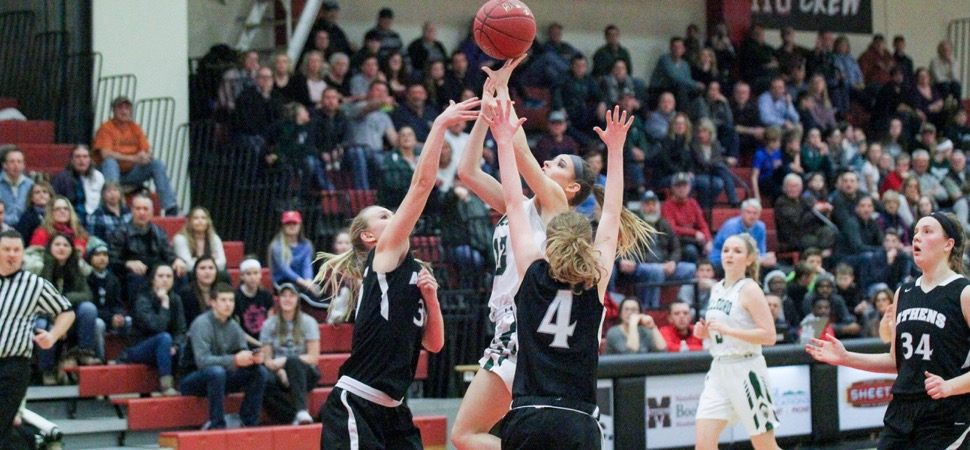 Lady Wildcats top Wellsboro in NTL Showdown final
By: Ed Weaver | NTL Sports | February 18, 2018 | Photo courtesy Joe Carreon
For the second year in a row, the Athens Lady Wildcats topped Wellsboro in the NTL Showdown final.
Things started out well for the Lady Hornets as they led 10-5 after the first quarter. Both teams put up 9 points in the second quarter and the Lady Hornets led 19-14.
The second half is when Athens came alive. After their halftime adjustments, the Lady Wildcats' offense was able to crack Wellsboro's zone and erupted for 15 points in the third to tie the game up at 29-29 heading into the final quarter. Athens continued to have Wellsboro's number in the fourth. The Lady Wildcat defense held Wellsboro to just three field goals the entire quarter, while they scored 18 points, 10 of them coming from the foul line, to close out the 47-39 win.
"Athens played well, take nothing away from them," said Wellsboro head coach John Davis. "We gave them second and third opportunities on the offensive glass which you can't do against a good team. We need to really fix that this week. We've learned this lesson repeatedly that we need to get rebounds, box out, and fight for the ball. If we don't it's going to be a short playoff run. We're going to face teams that are taller than us, and are as physical so we have to put a body on somebody and fight for that ball."
Athens' Emily Lunger led all scorers with a game-high 25 points and Kara Chapman backed her up with 16.
Junior Emma Poirier led Wellsboro with 15, senior Tory Self had 13, senior Lizzie Poirier had 6, sophomore Liza Manning had 3, and sophomore Cathryn Brought rounded out the scoring with 2 points.
The loss drops the Lady Hornets to 21-3 overall. The team is the top seed in the upcoming District IV Class AAA playoffs, and await their next game and opponent.
"I told the team during the game when it was close in the third quarter that we need the adversity and the challenge and a close game to get us ready for playoffs. On that same token you want to pull it out. We'll use this as a stepping stone for playoffs."