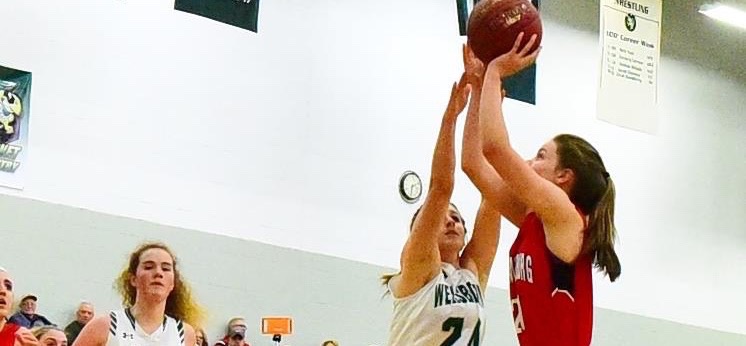 Lady Hornets upset by Bloomsburg in Class AAA quarterfinal game
By: Ed Weaver | NTL Sports | February 25, 2018 | Photo courtesy Tim McBride
The top-seeded Wellsboro Girls Basketball team suffered a 58-55 upset to #8 Bloomsburg in the District IV Class AAA quarterfinals on Friday, February 23.
Bloomsburg held a slim 13-12 lead after the first quarter then outscored Wellsboro 17-12 to lead 30-24 at halftime. The Lady Hornets started making runs in the third, but Bloomsburg answered to stay ahead. Wellsboro outscored Bloomsburg 15-14 in the third to cut in the Lady Panthers lead to position themselves for a comeback.
Wellsboro again outscored Bloom in the fourth and eventually tied the game up at 53-all with 2:20 left in the fourth quarter, but could never fully complete the comeback as time ran out on their season.
Junior Emma Poirier led all scorers with 18, sister senior Lizzie Poirier scored 17 in her final career game, and senior Tory Self finished with 13. Sophomore Cathryn Brought chipped in with 5 points and sophomore Liza Manning rounded out the scoring with 2.
Self finished with 511 points on the year, ranking her 5th all-time in Wellsboro Girls Basketball history. Lizzie Poirier finished with 310 points for the year and 974 for her career. Tuttle finished an injury-shortened season with 69 points (454 career), 132 rebounds (801 career), 10 blocks (50 career), and 43 steals (138 career). Senior Mikel Shabloski finished her career with 66 points, 65 rebounds, 12 assists, and 36 steals.
Emma Poirier finished 2nd on the team with 313 points, placing her at 524 for her career, and Brought finished with 129.
The loss ends the NTL Large School Division champion Lady Hornets' season at 21-4.