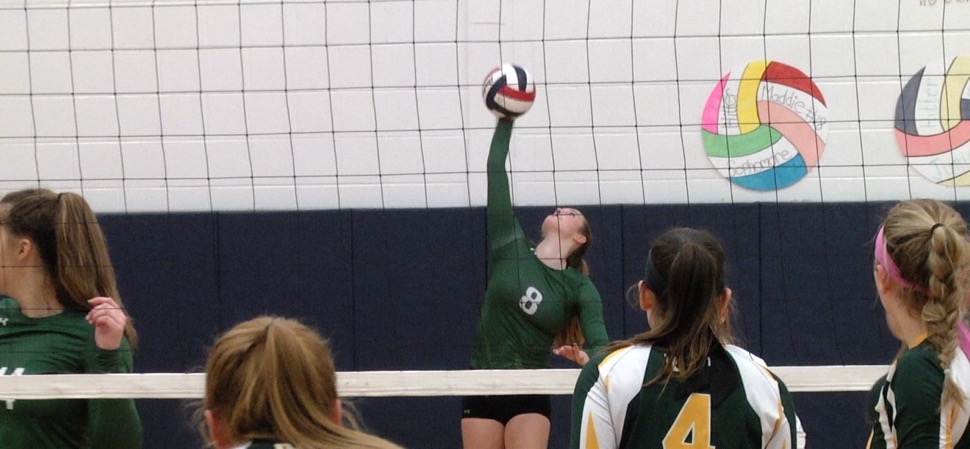 Lady Hornets sweep Wyalusing to return to D4 AA finals
By: Ed Weaver | NTL Sports | October 31, 2018 | Photo courtesy The Home Page Network
The Wellsboro Varsity Volleyball team is heading back to the District IV Class AA championship game after sweeping Wyalusing on Tuesday, October 30.
"Feels pretty good. I said this was a tough game for the girls to play tonight," head coach Sharon Zuchowski said after her 120th career win. "We're excited to be part of the finals again this year. It was a little hard getting going but once they got into rhythm and realized it was just a game and they could play and put everything else aside they did all right."
The first set was back-and-forth as neither team could pull away. After tied at 12-all, Wyalusing took a 15-12 lead forcing a Wellsboro timeout. The Lady Hornets then rallied and went on a 10-1 run to lead 21-16 and a 25-18 win. The second set started much like the first but Wellsboro took over early and never looked back. After breaking a 3-3 tie eventually built up a 20-13 lead then went on to win 25-17.
In the third set Wyalusing jumped out to a 3-1 lead but again the Lady Hornets went on a 18-1 run behind the serving of sophomore Bailey Monks to lead 19-4. Wellsboro closed out the set 25-9 for the sweep.
Monks finished the night with 16 points (3 aces) and 2 blocks, junior Caitlyn Callahan had 21 kills, junior Megan Starkweather had 19 assists and 7 digs, and junior Ryann Adams and 16 digs and 8 points (3 aces). Sophomore Breighanna Kemp pitched in with 9 assists and 3 kills, senior Heidi Zuchowski had 4 kills, and Starkweather also added 7 points.
Melody Kneller had 10 kills and 12 digs for Wyalusing. Lylah Oswald had 6 kills and 5 digs, Kendall Krewson had 17 assists, and Samantha Wood had 6 digs.
Wellsboro will be back in action in a rematch of last year's District IV Class AA finals against rival North Penn-Liberty on Thursday, November 1.
"It's going to be a hard game," concluded Zuchowski. "It's going to be a great match. We're going back to Wellsboro tonight, practice hard real hard tomorrow and come back here Thursday ready to win."