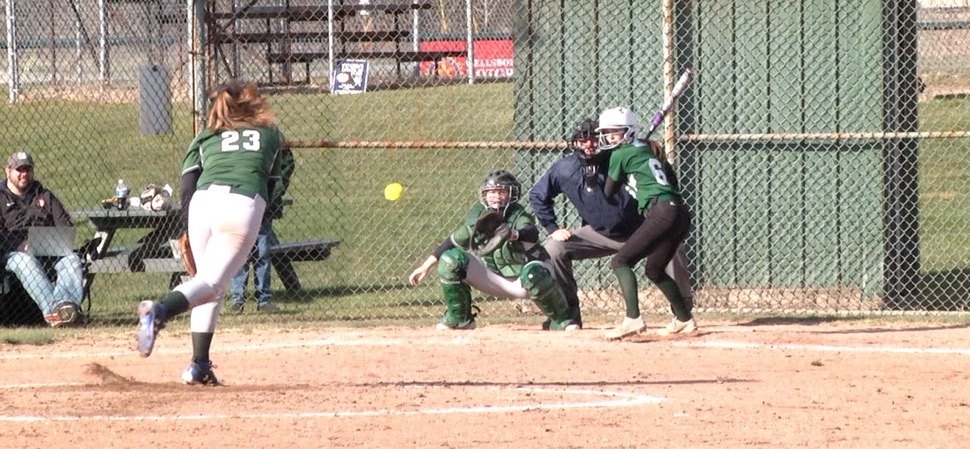 Lady Hornets slide continues against Hughesville
By: Ed Weaver | NTL Sports | April 21, 2018 | Photo courtesy The Home Page Network
The Wellsboro Varsity Softball team's woes continued on Friday, April 20 as they suffered a 17-5 loss to Hughesville.
It has been a rough two weeks for the Lady Hornets as they've dropped their last four straight games and five out of their last six.
"Today's non-league game was a chance to move some players around to see what some of our options are," said head coach Ron Brought. "We had some girls step in the circle for the first time this season to help us gauge what options we have for moving forward. We didn't pick up the win but we were able to get on the board and score in back to back innings, Chelsie English hit her first career home run, and our middle infield turned a nice double play. We're going to keep working to improve every game."
The Lady Spartans jumped out to an early 3-0 lead in the first, then added 6 more runs in the second to put the game firmly in their control. Hughesville added a run in the third to make it 10-0 and 4 more in the fourth to lead 14-0.
Wellsboro hung in there and kept battling despite the lopsided score. In the bottom of the fourth senior Sydney Tremper led off with a base hit that led to English's two-run home run to left field in the very next at bat to cut it to 14-2.
Hughesville added 3 more runs in the top of the fifth to push it to 17-2, but again the Lady Hornets kept battling until the final out and added 3 runs of their own in the final half inning. After two quick outs, Wellsboro rattled off 5 straight hits. Freshman Kerrah Clymer and Tremper started the rally and were brought home on a base hit by English to cut it to 17-4. Back-to-back base hits by sophomore Ryann Adams and senior Kailee Clymer moved English to third where junior Heidi Zuchowski reached on an error to score her, making it 17-5 before Hughesville picked up the final out in the next at bat.
Tremper, Adams, and English all went 2-for-3 at the plate and English finished with 4 RBI's.
Adams went the first 1 and 1/3 innings on the mound, Tremper pitched 2 and 2/3 innings, and sophomore Georgia Macensky pitched the fifth inning.
The loss drops the Lady Hornets to 3-5 (3-3 NTL Large School Division). The team will be back in action on Monday, April 23 against Cowanesque Valley.