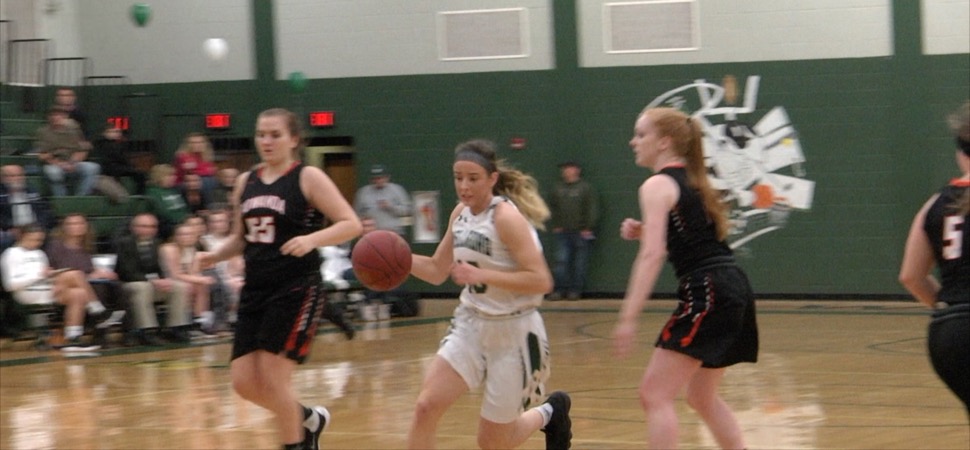 Lady Hornets roll to Senior Night victory
By: Ed Weaver | NTL Sports | January 31, 2018 | Photo courtesy The Home Page Network
The Wellsboro Varsity Girls Basketball team cruised to a 74-30 win over Towanda during Senior Night on Tuesday, January 30.
"You're always concerned on Senior Night because emotions run high. We have four awesome seniors that are going to be departing after this season so we get a little choked up about that," said head coach John Davis. "I'm proud of the girls though. They stayed focused and took care of business tonight.
"I love these girls and have had three for quite a while," Davis said of his seniors. "It's been great to have Tory, she's a great kid and brings a confidence to the team. I can't say enough about Rachael, I just love her to death. Lizzie, she's one of the hardest workers I've ever seen. She puts a lot of time in the gym and I'm going to miss her leadership as well, and Mikel, I've followed her since Middle School and she's gotten better every year and she's been a major contributor to our program which I'm so proud of her for. I just can't say enough about this group."
After the Black Knights scored off the opening tip, it was all Wellsboro from there as junior Emma Poirier drained a right-wing three-pointer. Three's by seniors Tory Self and Lizzie Poirier, along with a bunch of layups by Self, sophomores Cathryn Brought and Liza Manning, and jumpers by Lizzie Poirier had Wellsboro up 20, 29-9, after the first quarter.
Wellsboro kept the pedal down in the second and erased any hope Towanda had in getting back in the game with a 23-point quarter. Self led the way with 7 points, Lizzie Poirier had 6, and senior Mikel Shabloski scored 4 points to help put the Lady Hornets up 52-19 at halftime.
The Lady Hornets continued rolling in the second half as they outscored Towanda 22-11 to pick up the lopsided NTL Large School Division win.
Self nearly had a triple-double with 24 points, 10 rebounds and 9 assists. Lizzie Poirier finished with 22 points and now sits at 884 career points. Manning finished with a career-high 9 points and 10 rebounds, Brought and Shabloski both finished with 6 points each, and junior Dani Hunt rounded out the scoring with 4 points.
Shabloski added 7 rebounds to her point total, Manning blocked a shot, and Brought, Shabloski, Manning, and Lizzie Poirier all made 2 assists.
In the JV game the Lady Hornets fell to Towanda 42-16 to fall to 3-14.
The win improves the Varsity team's record to 17-1 (13-0 NTL Large School Division). The team will be back in action on Thursday, February 1 on the road in Athens.