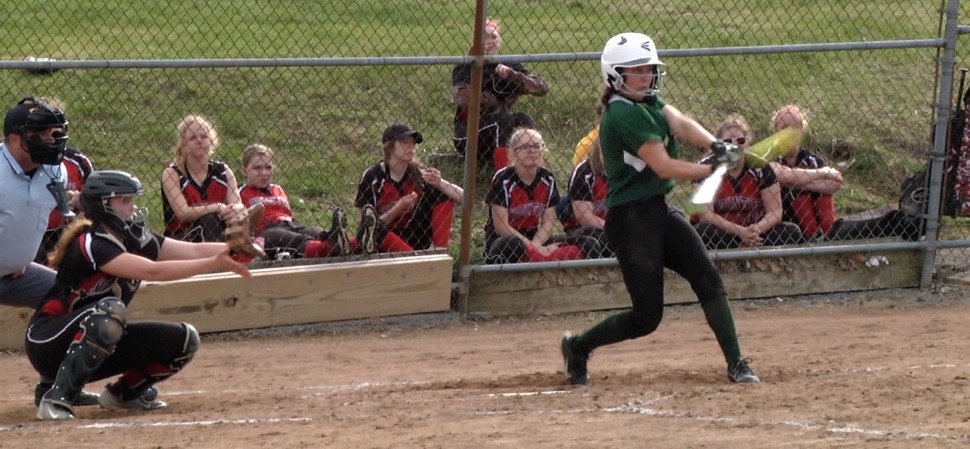 Lady Hornets fend off North Penn-Liberty
By: Ed Weaver | NTL Sports | May 5, 2018 | Photo courtesy The Home Page Network
The Wellsboro Varsity Softball team hung on for a hard-fought 5-4 win over rival North Penn-Liberty on Friday, May 4.
After a scoreless first inning the Lady Hornets found the scoreboard first in the bottom of the second.
Senior Kailee Clymer led off with a triple to right-center field then scored the next at bat as freshman Jena Boyce hit a single up the middle. Boyce stole second to get into scoring position then junior Tiana Lecker moved her over to third with a base hit. Sophomore Ryann Adams then drove in Boyce on a fielder's choice making it 2-0.
After recording the final out in the second the Lady Mounties went on their run in the top of the third. Abby Heatley started the rally with two outs on a single past second base, Sara Swingle drew a walk in the next at bat then Brooke Harvey tripled to score both Heatley and Swingle to tie it at 2-2. One at bat later Savanah Doney hit a line drive over short to score Harvey to put Liberty in front, 3-2.
Not to be outdone the Lady Hornets added three runs of their own in the bottom half of the inning to retake the lead, one which they would keep.
Freshman Kerrah Clymer led off with a line drive over second base then later stole second to move into scoring position. With two outs sister Kailee Clymer hit a bloop single over second to Kerrah tying it at 3-all, then advanced to third on a throwing error. Boyce delivered again in her at bat with a liner over short to score Kailee, making it 4-3. Later in the inning Lecker hit a bloop single up the middle to score Boyce from third to make it 5-3.
Wellsboro maintained their 5-3 lead until the top of the sixth when North Penn-Liberty answered. Mariah Kshir started the inning as she reached on an error then Emma Williams singled to move her into scoring position. Delaney Colton then hit into a fielder's choice to score Kshir cutting the score to 5-4 before Wellsboro got out of the inning.
The Lady Hornets managed 2 more hits in the bottom of the sixth but were unable to put any more runs on the board, but held on with a solid defensive performance in the top of the seventh.
"Mansfield is a tough team and they played us really well the beginning of the season and came out on top so we were really just trying to even the score," said head coach Ron Brought. "Whenever your play North Penn-Liberty in a rivalry game you always want to do whatever it takes to win and the girls came through. They played really well. Mansfield didn't make it easy, they have great pitching. Coach Grinnell gets them ready for every game and they respond really well but tonight our girls showed a lot of heart, came back, and did the job."
Lecker finished the game 3-for-3, Kailee Clymer and Boyce were both 2-for-3, Kerrah Clymer was 2-for-4, and Adams was 1-for-3. Sophomore Cathryn Brought started on the mound and pitched a complete game, giving up 6 hits, 2 walks, and struck out 3 in the win.
The Lady Hornets' win improves them to 8-6 (8-3 NTL Large School Division). The team will be back in action on Monday, May 7 against Northeast Bradford.