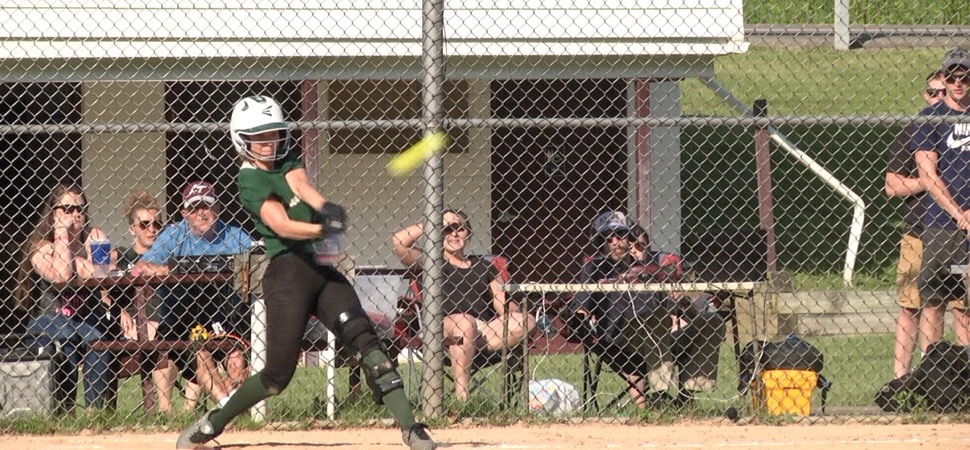 Lady Hornets fall to Loyalsock in D4 quarterfinals
By: Ed Weaver | NTL Sports | May 25, 2018 | Photo courtesy The Home Page Network
A day after the Lady Hornets topped Central Columbia their season ended earlier than they wanted in a 10-7 loss to #2 Loyalsock on Thursday, May 24.
Things looked promising to start the first inning as sophomore Ryann Adams and freshman Kerrah Clymer (bunt) both had base hits, but Loyalsock's Juliana Cruz worked her way out of the inning with two strikeouts and a foul pop to first base.
From that point on it was all Lancers, both offensively and defensively.
Kaitlin Welker doubled to start the 3-run first for the Lancers. A Sam Stopper triple scored Welker, Summer McNulty singled to right field to score Stopper, and Bella Barone hit a sac fly to score McNulty.
Loyalsock added another run in the bottom of the second as they capitalized on Wellsboro mistakes.
Marissa Houseknecht was the first Lancer to reach base on an infield hit. Cruz hit into a fielder's choice, but an error on the throw turned what could of been an inning-ending double play put runners on second and third for Welker. Welker hit into a fielder's choice back to sophomore Cathryn Brought at the pitcher's mound, but Houseknecht was able to beat the play at the plate to make it 4-0.
After a scoreless inning by Wellsboro's defense in the bottom of the third, Loyalsock added two more runs in the fourth.
With senior Alyssa Yungwirth on the mound in her first pitching action of the season after recovering from a torn ACL in the fall, Sock's Teghan Taylor led off with a line drive up the middle, followed by Houseknecht reaching base on an error. Cruz grounded out to short on a fielder's choice but still managed to score Taylor to make it 5-0. Houseknecht looked to add another quick run but was gunned out at third by senior Sydney Tremper.
One at bat later Sam Stopper hit a monster shot to right field to score Welker making it 6-0.
Just like last game against Central Columbia, Wellsboro's bats came alive in the fifth inning to ignite a rally. Juniors Heidi Zuchowski and Hailey Neal both singled to put two on base. Tremper smacked a base hit up the middle to score Zuchowski and move Neal to third, but was thrown out at second on the relay from the outfield. Kerrah Clymer was hit by a pitch in the next at bat, putting two on for Yungwirth. Yungwirth delivered, on what would go down as her only hit of the season, on a 3-run home run to left center to close the gap to 6-4.
With Brought back on the mound in the fifth, the Lady Lancers' offense went back to work and churned out 4 more runs over the next two innings, again thanks in part to Wellsboro errors. McNulty and Barone both scored in the fifth and Welker and Stopper crossed home plate in the sixth to push the lead back to 10-4 heading into the top of the seventh.
The Lady Hornets' came out swinging in the top half of the inning, and again rallied to try and pull off the upset. Adams (bunt), Tremper, and Kerrah Clymer (bunt) all had base hits to load them up with Yungwirth coming back up to the plate. Yungwirth hit into a fielder's choice as Loyalsock got Tremper out at third, but Adams scored to cut it to 10-5.
Freshman Chelsie English singled to shallow left field to load the bases back up. Two at bats later freshman Jena Boyce singled up the middle to score Clmyer and freshman Jessa Lohr (running for Yungwirth) to cut it to 10-7. Wellsboro's comeback came to a halt though in the next at bat as Zuchowski flew out to right, sending the Lady Hornets home and the Lancers into the Class AAA semi-finals.
Kerrah Clymer and Tremper both led the Lady Hornets at the plate this season. Kerrah Clymer picked up 31 hits in 67 at bats (.463) with 26 runs scored, 3 doubles, 2 triples, a home run, and 7 RBIs. Tremper capped her final season with 31 hits in 69 at bats (.449) with 23 runs, 2 doubles, a triple, and 13 RBIs.
Boyce and Adams both finished with 24 hits each; Neal finished 19-for-56 with 2 home runs and 11 RBIs; Zuchowski was 18-for-58 with 2 doubles, a home run, and 22 RBIs; senior Kailee Clymer was 17-for-64 with 5 doubles, 3 triples, 2 home runs, and 8 RBIs; English was 17-for-50 with 2 home runs and led the Lady Hornets with 25 RBIs; junior Tiana Lecker was 13-for-46 with 6 runs and 4 RBIs; and Brought was 6-for-32 with a double, a triple, and 8 RBIs.
Brought went 7-5 on the mound in 13 starts on the year with 94 strikeouts. Kerrah Clymer was 5-3 in 7 starts with 23 strikeouts.
While Thursday not only ends the Lady Hornets' season (12-9, 11-4 NTL Large School Division), it also ends the careers of Clymer, Tremper, and Yungwirth, the last three members of Wellsboro's 2015 District IV championship team.
Clymer finished her career 47-for-178 (.264) with 11 doubles, 4 triples, 3 home runs, 32 RBIs, 42 runs scored, and 19 walks.
Tremper finished with 86 career hits in 227 at bats (.379) with 15 doubles, a triple, 33 RBIs, 20 walks, and 61 runs scored.
Yungwirth finished her career 83-for-241 (.344) with 57 runs scored, 12 doubles, 3 triples, 5 home runs, 41 RBIs, and 20 walks. On the mound she was 36-6 with 5 saves in 34 career starts. In the 274 innings she threw, she allowed 141 hits, 62 runs, 4 home runs, 63 walks, and struck out 392 batters with a 1.41 ERA.
WellsboroSoftball.com would like to congratulate the Lady Hornets on a great season, and thank Kailee, Sydney, and Alyssa for their hard work and dedication to the program during their careers.