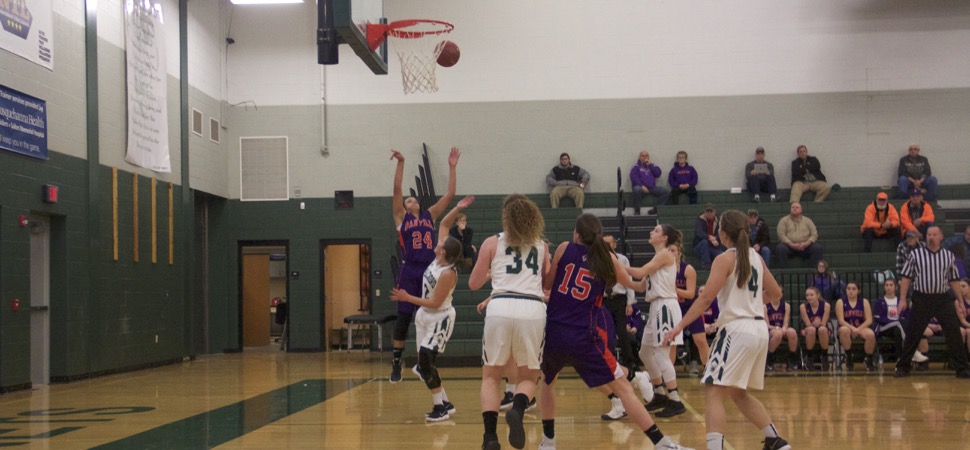 Lady Hornets fall to Danville
By: Ed Weaver | NTL Sports | February 11, 2018 | Photo courtesy Chase Kriner
The Wellsboro Varsity Girls Basketball team dropped their second game of the season in a 39-33 loss to Danville on Saturday, February 10.
Both teams struggled early on but Wellsboro took the lead midway through the first quarter. Danville, however, came strorming back and ended the quarter on a 12-4 run to lead 12-6 after the first quarter. Wellsboro still looked sluggish in the second and trailed by as many as 9 before two foul shots by sophomore Liza Manning and basket from senior Rachael Tuttle cut it 19-14 at the half.
Wellsboro cut the lead down the three on a jumper by senior Lizzie Poirier to start the third but Danville eventually pushed the lead back up to 24-18. A layup by Manning got it back down to four but the Lady Ironmen build the lead back up to 28-22 after the third.
Poirier cut the game back to four after a Wellsboro timeout two minutes into the fourth and eventually got within a point as senior Tory Self split multiple Danville defenders for a layup after an offensive rebound to make it 28-27. Tuttle came up with a steal the next time Danville came down the court, then sophomore Cathryn Brought found Self for a left layup to put Wellsboro up 29-28.
After a Danville timeout with 4:02 remaining and a Wellsboro foul, the Lady Ironmen retook the lead from the foul line. A Danville layup increased the lead to 32-29, but another hard-fought layup by Self cut it to 32-31. Danville hit another pair of foul shots after another Wellsboro timeout with 2:39 left to push it to 34-31. A Self running layup through the lane cut it to 34-33, but that's as far as the Lady Hornets would get as Danville iced the game from the foul line.
Self led Wellsboro with 17 points, Poirier finished with 8, Manning had 4, and Brought and Tuttle both finished with 2 points each. Tuttle and Manning also grabbed 6 rebounds each, Self had 3 rebounds and 3 steals, and Poirier had 3 rebounds.
Corinna Petrus led all scorers with 18 points for Danville.
Danville also won the JV game 44-14, dropping Wellsboro to 3-17.
The Lady Hornets are back in action against rival North Penn-Mansfield on Monday, February 12 before they host Northeast Bradford in the semi-finals of the NTL Showdown next Thursday.