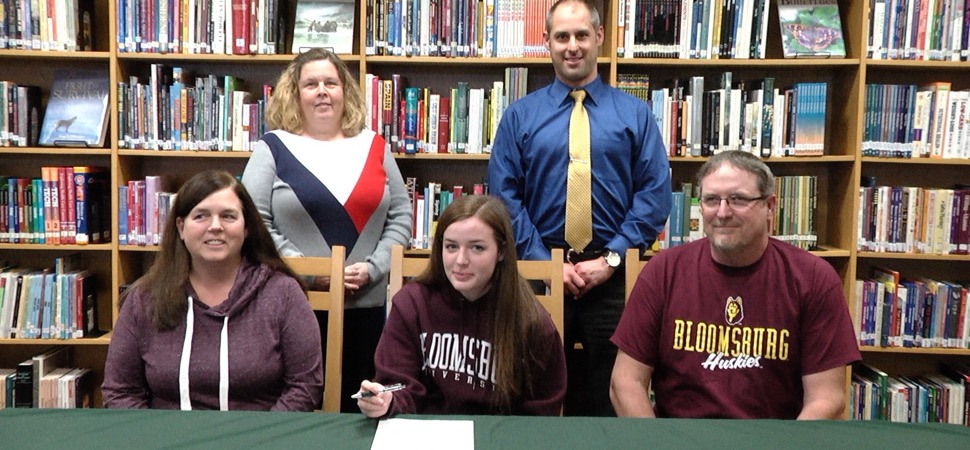 Keane to continue volleyball career at Bloomsburg
By: Ed Weaver | NTL Sports | January 15, 2018 | Photo courtesy The Home Page Network
Senior Brianne Keane announced she will continue her volleyball career in the fall at Division II Bloomsburg University on Friday, January 12.
"I'm really excited for the new level of competition because it's going to be a higher level then what we're used to at Wellsboro and meeting a whole bunch of new people that have the same passion I do," Keane said on becoming a Husky.
Over the past 4 years Keane was a member of the 2015-16 District IV championship squad and helped guide the Lady Hornets back to the District title game this past season, which they came up short in five sets, and was a 2nd team NTL All-Star.
"I'm nervous but it will be fun," Keane said of her upcoming new experience at Bloomsburg. "Coach Zuchowski really helped me out."
In her four years as a Lady Hornet, Keane played 180 sets and recorded 107 kills, 102 aces, 29 blocks, 259 digs, scored 418 points, and registered 1,167 assists.
Keane joins Mackenzie Marple, Kaeli Butters, Kirsten Florio, Morgan Florio, Darci Warriner, and Hannah Zuchowski that have continued their careers under head coach Sharon Zuchowski.
"I'm really superexcited for Bri. She's worked hard and she's been one of our strong leaders and I'm very pleased to see another kid head off to the collegiate level, it just shows their love for the sport," Zuchowski said. "We've had a strong program and it's due to all these girls who are working hard, in season and out of season. It is their love of the sport and talent that's getting them to the next level."
WellsboroAthletics.com would like to congratule Brianne on continuing her volleyball career.