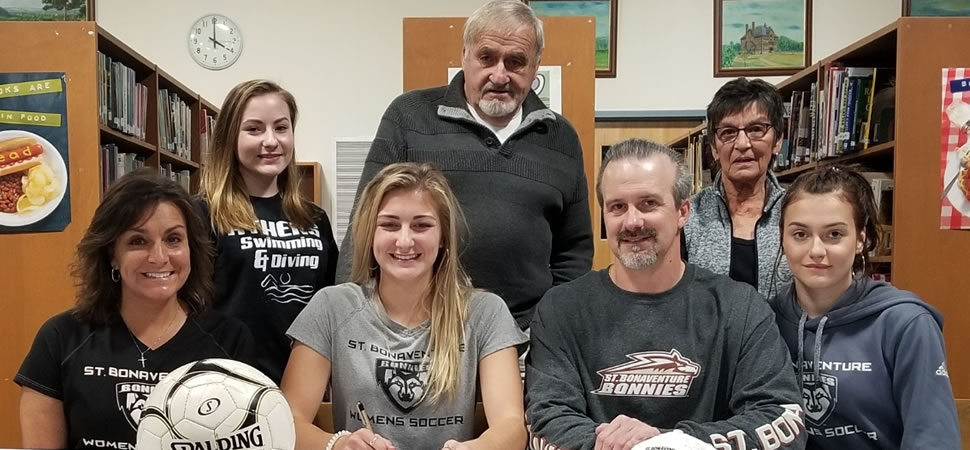 Hutchison signs to play at Division I St Bonaventure
By: Tim Birney | NTL Sports | November 20, 2018 | Photo courtesy Tim Birney
ATHENS — As a freshman, Rachel Hutchison fell in love with St. Bonaventure.
On Monday, the Athens senior signed a National Letter-of-Intent to play Division I soccer for the Bonnies.
"I went to a camp there my freshman year, and I immediately fell in love with the campus," she said. "The atmosphere is very family-oriented … everything about St. Bonaventure felt like home."
Hutchison, who verbally committed to St. Bonaventure last spring, has spent years criss-crossing the U.S. playing premier level travel soccer.
"I've spent all of my years of travel (soccer) for a moment like this, and I think it really paid off. I'm very grateful for it."
Despite her experience at the elite travel level, Hutchison, who will graduate as the all-time leader in goals scored at Athens, knows she has work to do to prepare for the Division I grind.
"Speed of play by far will be the biggest adjustment. Going straight from the NTL, and even from travel ball, to the college level, you're playing against girls who are 20 years old.
It will definitely be different, and a lot more aggressive," she said. "I need to focus on having the speed of play and aggressiveness I need to compete.
"The girls are going to be in the best of shape," added Hutchison. "Over the summer heading into my freshman year, I really need to train hard to keep myself up at that same level."
Another part of the transition will be the mental part of the game, especially when it comes to playing time.
"I think I may need to be prepared even more for the mental part of the game than the physical," said Hutchison. "I need to walk in confident, and I need to focus on my goals, and what I need to do to help the team.
"Going into my freshman year, I'll have to be prepared to adjust to any moment, even adjusting to a new position that I'm not use to playing," she noted. "I'll probably be playing forward or midfield, or possibly outside back, it depends on where I'm needed.
"I'm use to getting a lot of minutes, but heading into college I'm going to have to prepare to get myself ready if I have to come off the bench," she added.
Athens girls soccer coach Rich Pitts is confident Hutchison will excel at St. Bonaventure.
"She needs to work on the speed of play as the D-I college level," he said. "She will just need to work really hard until she catches up to that speed. I really don't think she will have an issue with it though as she plays on a pretty high level premier team.
"She will be successful at the next level because she works at her game 24/7," noted Pitts. "And, as you saw during our district run, she stepped up her game to the next level.
"We are excited to watch her excel in college," he added.
Hutchison plans on majoring in Biology or Health Science.
"After four years of college, I'm hoping to go into a Physician's Assistant program," she said. "If that doesn't work out, I definitely want to do something in the medical field."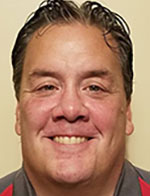 Tim Birney is the founder / owner of River Road Media Group. He was born and raised in the Valley, graduating from Waverly High School in 1984.
Birney earned an Associate's Degree in Journalism from SUNY Morrisville in 1986 and a Bachelor's Degree in Journalism / Public Relations from Utica College of Syracuse University in 1988. He began his newspaper career at The Daily Review in Towanda in 1989, before moving on to The Evening Times in 1995. He spent more than 10 years at the Times, the last four as Managing Editor.
River Road Media Group includes five sites in "The Sports Reports" family that cover 24 school districts in five counties: Valley Sports Report (launched Aug. 10, 2009), Tioga County (NY) Sports Report (Aug. 13, 2018), and Northern Tier Sports Report (Aug. 31, 2020); Northern Tier West Sports Report (March 15, 2021) Southern Tier Sports Report (Aug. 16, 2021).