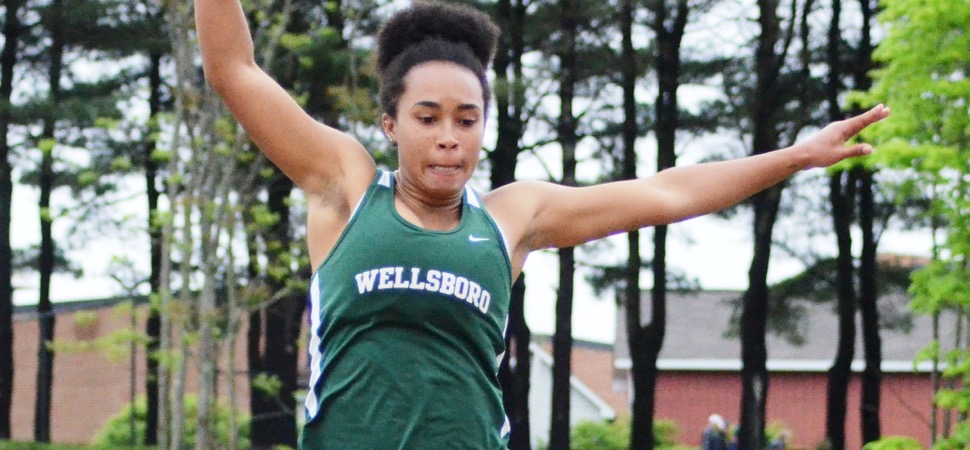 Hosey qualifies for PIAA state track meet
By: Ed Weaver | NTL Sports | May 20, 2018 | Photo courtesy Brian Fees
Junior Dahlia Hosey is making her second trip to the PIAA state track and field meet after taking home the silver medal in the triple jump on Saturday, May 19.
Hosey, who qualified last year in the same event, hit a jump of 35-ft, 2.75 on her second attempt of the second round flight to qualify for her return trip to states.
"It feels good, I can't wait to go back. It was really fun last year," Hosey said. "I hope I make it next year as well."
Hosey was seeded 2nd in the event with a season best of 36-ft, 11 from the very first meet of the season at Sayre. While she was over a foot off her farthest jump of the year, weather played a factor as the track surface and runways were wet from early morning rain in Williamsport.
"I wanted to do better, I wanted to PR, but I'm happy I qualified again."
While she prepares for her next meet, Hosey will be getting ready both mentally and physically.
"I'll be icing a lot because my shins hurt. I'm not going to do too much.
"It's really nerve-racking because there's a bunch of people there. I'll know how to control my nerves more because its very intimidating because there's a lot of athletes there."
Multiple Hornets took part on day two of Districts.
For the girls junior Elizabeth Macias was 20th in the 3200m (13:19.74), the 4x100m relay team of senior Grace Heckman, sophomore Caitlyn Callahan, sophomore Savana Baltzley, and Hosey were 9th (52.59), the 4x400m relay team of junior Zoe Iseri, sophomore Alex Chilson, sophomore Kayla Mengee, and Baltzley were 17th (4:32.75), and senior Kaitlyne Kramer tied for 9th in the pole vault (8-ft, 6).
For the boys sophomore Hunter Brown was 6th in the discus (126-ft, 10), junior Holden Kennedy and sophomore Frank Kewitt tied for 11th in the high jump (5-ft, 6), junior Bergen Weiner was 17th in the triple jump (36-ft, 7.5), sophomore Karter Witmer was 20th in the triple jump (35-ft, 9.25), and Kewitt was 22nd in the triple jump (35-ft, 2.5).
The Hornet's 4x400m relay team of freshman Jonathan Wetzel, Weiner, sophomore Brennan Warner, and junior Brett Rudy were 19th (3:45.24) and the 4x100m team of Rudy, sophomore Aidan Hauser, freshman Joseph Grab, and senior Alex Kozuhowski were 4th (45.02).
Class AA Boys Day 1 Complete Results
Class AA Boys Day 2 Complete Results
Class AA Girls Day 1 Complete Results
Class AA Girls Day 2 Complete Results