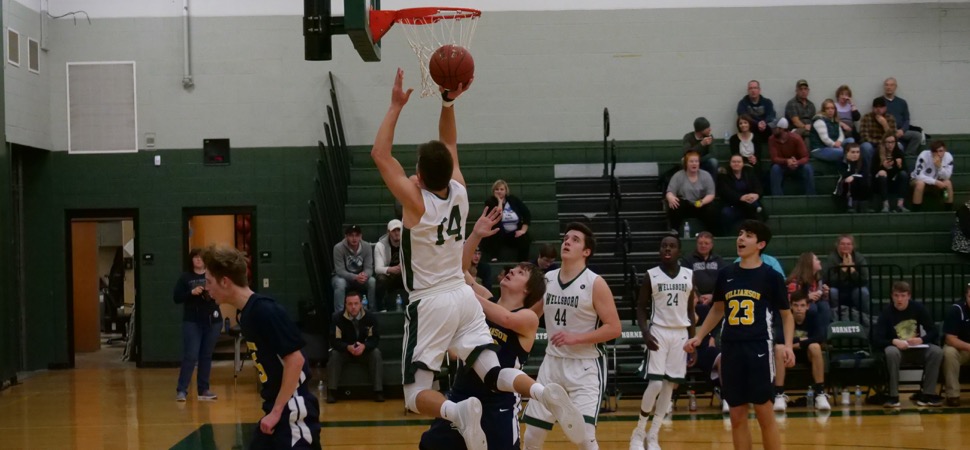 Hornets wallop Williamson, 89-26
By: Ed Weaver | NTL Sports | January 25, 2018 | Photo courtesy Dr. Robert Bair
The Wellsboro Varsity Boys Basketball team outscored Williamson 23-5 in the first quarter to cruise to an 86-29 win on Wednesday, January 24.
Senior Collin Pietropola scored three early baskets to put the Hornets up 6-0 before the Warriors found the bottom of the net. Pietropola, senior Dalton Prough, and junior Brandyn Tuttle all scored 6 points each in the quarter as the Hornets put the game out of reach early.
Wellsboro kept the pedal down the remaining three quarter, outscoring Williamson 63-24 with the mercy rule going into effect early in the second half.
The Hornets had three players score in double digits on the night, led by Tuttle with a game-high 20 points and 11 rebounds for a double-double. Prough scored 18 points and junior Andrew Brelo scored 13 points, all in the second half, off the bench. Senior Quinn Henry finished with 9, Pietropola ended up with 8, junior Holden Kennedy scored 6 points, freshman Joseph Grab added 5, sophomore Billy Lechler hit a half court shot at the end of the first half for 3 points, and juniors Bergen Weiner and Hunter Brown rounded out the scoring with 2 points each.
Prough added 6 rebounds and 6 assists, Henry had 5 assists, Pietropola had 4 rebounds and 2 assists, Brelo made 3 steals and 3 assists, and Grab had 4 rebounds. Weiner added 4 assists, senior Nic Ingerick and junior Tanner Button both registered 3 assists, and Lechler grabbed 3 rebounds.
Wellsboro also won the JV game 47-24 to improve to 9-6. Grab led all scorers with 16 points and Lechler scored 14.
The win improves the Varsity team's record to 16-1 (12-0 NTL Large School Division). The team will be back in action back home on Friday, January 26 against Troy.