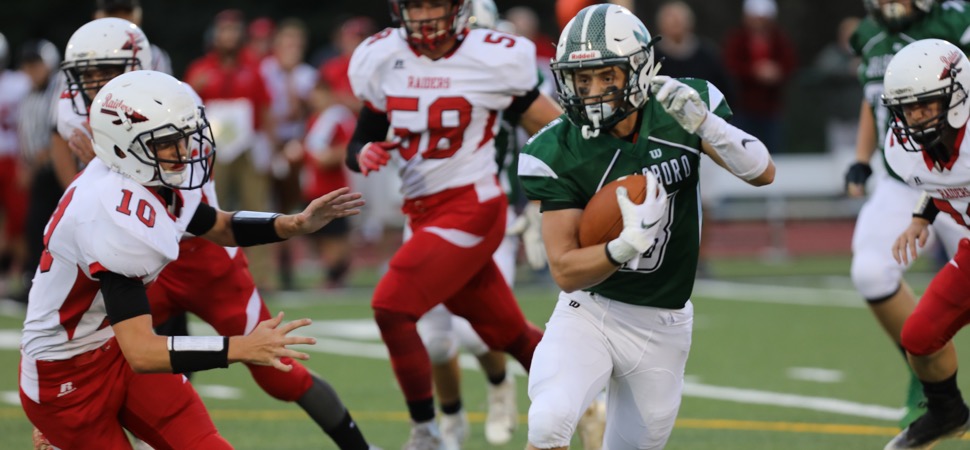 Hornets turn up heat in second half to top Montgomery
By: Ed Weaver | NTL Sports | September 8, 2018 | Photo courtesy Dr. Robert Bair
After a slow first half against Montgomery on Friday, September 7, the Wellsboro Varsity Football team scored 26 unanswered points to notch their third straight win to start 2018.
After a scoreless first quarter Wellsboro managed to put togerther a scoring drive midway through the second. After the Hornets forced Montgomery to turn the ball over on downs on their second drive, junior Aidan Hauser ripped off a gain of 28 to midfield and Wellsboro eventually moved to the Montgomery 24. Then on third-and-9 junior Karter Witmer connected with junior Silas Wagaman for a touchdown. Sophomore Zach Singer's extra point split the uprights and the Hornets led 7-0 with 7:10 left in the first half.
Wellsboro's lead didn't last long though as Montgomery's Hunter Budman broke free for a 62-yard run following the kickoff and Rhyle Strausbaugh's extra point tied the game at 7-7 not even a minute later.
"For whatever reason we didn't come out ready to play," said head coach Matt Hildebrand following the game. "I don't know what that reason was, we'll definitely have a better week of practice hopefully. I don't know if it was the weather this week or what, but we definitely came out flat at home so we really have to clean that up because next week that will lose us a football game."
It's almost as though the Hornets' head Coach Hildebrand's post-game comments during halftime, because they looked like a completely different team. As the ready for play whistle sounded and the Red Raiders kicked off to start the second half, Hauser took the kick 75 yards to the house just 14 seconds into the half. Singer's extra point was blocked after a penalty moved the try back to the 18, but Wellsboro led 13-7.
Both team's ensuing drives ended in punts but the Hornets forced a Montgomery turnover as senior Tanner Button intercepted a pass. With the ball at their own 48-yard line the Hornets went to work as freshman Isaac Keane connected with Wagaman on a 17-yard gain, then pulled off a 24-yard run down to the Montgomery 12. Two plays later Keane from junior Alex Burrell in the corner of the end zone from 9 yards out to put Wellsboro up 20-7 with 2:55 remaining in the third quarter.
After another Red Raider punt the Hornet offense went back to work and needed only three plays to find the end zone again. After a short run by senior Robert Brown and Hauser, Hauser scampered for 32 yards to paydirt to make the score 26-7 with 40 seconds remaining in the third. Hauser struck again not even a minute later as the fourth quarter started, this time from 36 yards, to make it 33-7.
"I liked how the guys responded in the second half with the kick return. That was big for us and got our emotions in the game," Hildebrand said.
Hauser finished the game with a career-high 177 yards on 20 carries with 2 touchdowns. He also returned 2 kicks for 97 yards and a touchdown.
"We know he has the ability to do some special things," Hildebrand said of Hauser (who ignited Wellsboro's second half). "Getting the ball in his hands, especially in a game like this where it was tight for a good portion, he's able to break it open with some big plays. That was our plan and we saw what he was able to do."
Witmer went 5-of-11 through the air for 55 yards and a touchdown while Keane finished 3-of-6 for 31 yards and a touchdown. Wagaman led Wellsboro's receiving corps with 3 catches for 45 yards and Burrell grabbed 2 passes for 17 yards.
Defensively junior Tyler Hancock led Wellsboro with 13 tackles, senior Hunter Brown had 12 tackles, Burrell and Robert Brown both made 9 tackles, and Button finished with 6 tackles.
The win improves the Hornets' record to 3-0 (3-0 NTL Large School Division). The team is back in action next Friday, September 14 on the road in Towanda.