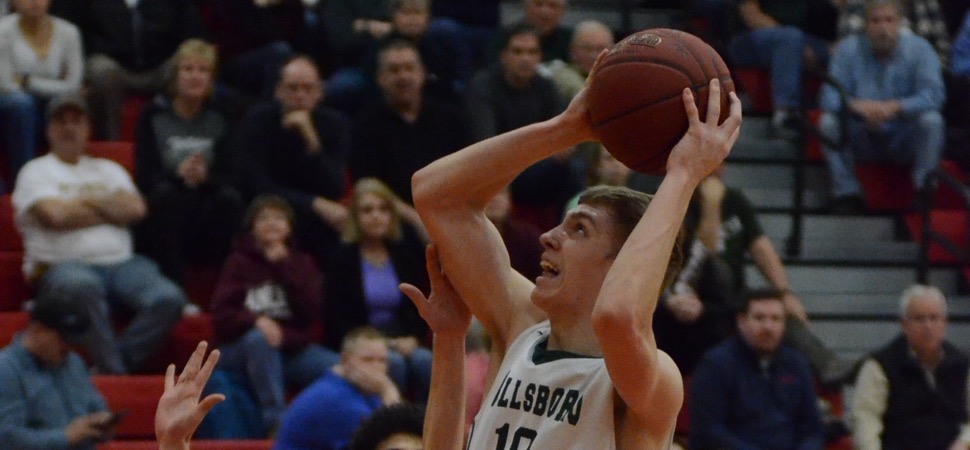 Hornets top Southern Columbia to advance to AAA title game
By: Ed Weaver | NTL Sports | February 28, 2018 | Photo courtesy Brett R. Crossley
The top-seeded Wellsboro Hornets are heading back to the Distict IV Class AAA championship game after a 53-28 win over Southern Columbia at Williamsport Area High School on Tuesday, February 27.
Last season Southern Columbia upset Wellsboro, again the top seed in Class AAA, 52-45 in the same gym. A year later the Hornets got their revenge.
"Tonight was a revenge game after last year's loss," said junior Brandyn Tuttle. "We knew we had to come in today and play our best and work our way for the win."
After an early three from senior Nic Ingerick, Southern Columbia went ahead 5-3, but the Hornets held the Tigers to just two more points in the quarter, outscoring them 12-2 to lead 15-7. The Hornets then shut down the Tigers' offense the rest of the way en route to causing 20 turnovers on the night.
"That's what we live by, that's what we stress, and that's what we play all the time," said head coach Todd Outman. "The kids just play great defense and we've held some good teams to few points. I was really concerned about their guards. I was very impressed with what I saw on film from them and I thought our guys did a good job on them. They held them down and didn't let them get to the hoop as often as I had seen previously. I was very pleased with our defensive effort."
Wellsboro limited Southern Columbia to 5 second-quarter points. Outside of 2 points from junior Andrew Brelo on a steal-layup, Tuttle owned the quarter, scoring 9 of his game-high 23 points, to put Wellsboro up 26-12 at halftime.
Wellsboro's best quarter was the third as they broke the game open and put some distance between them and the Tigers. Wellsboro handled Southern Columbia's full-court pressure as senior Dalton Prough and Tuttle connected multiple times for easy layups. Tuttle put up 10 points, of Wellsboro's 19, in the third to lead Wellsboro while Prough scored 4 despite picking up two fouls in the quarter.
After three quarters of play the Hornets led 45-25.
"We could definitely tell that mentally they were starting to get out of it," Prough said. "They were starting to throw up some unprecedented shots and at that point we knew they were desperate so we really started to pick up the on-ball pressure."
Wellsboro closed out the final 8 minutes holding the Tigers to just three points from the foul line while scoring 8. The Hornets slowed the game down and controlled the ball. Once the Tigers started to foul Wellsboro sank 6-of-7 foul shots to roll on to victory.
Tuttle finished the night with 15 rebounds for his 18th double-double of the season. Tuttle's 23 also placed him at 400 points on the season. Prough finished with 12 points and moved into 8th on Wellsboro's all-time scoring list with 974 points, passing Brian Tombs, who scored 967 points from 1991-94. Prough also dished out 7 assists, grabbed 5 rebounds, and made 3 steals.
Senior Quinn Henry finished with 6 points, shooting 3-for-4 from the foul line, and grabbed 4 rebounds. Freshman Joseph Grab had 5 points off the bench, Ingerick finished with 3, and Brelo and senior Collin Pietropola rounded out the scoring with 2. Grab also had 3 assists and 2 steals, Brelo had 3 rebounds and 2 steals, and Pietropola grabbed 3 rebounds.
Next up for Wellsboro is a trip back to the Class AAA championship game, where the Hornets are looking to win their first title since the 1951-52 season. Standing in the Hornets' way is Loyalsock, 58-36 winners over Hughesville in the other semi-final game. Wellsboro's only loss this season was at the hands of the Lancers, who beat the Hornets 52-38 despite Wellsboro leading after the third quarter.
Needless to say, the Hornets are excited about the opportunity to play for a championship.
"It's something that we've been talking about since the beginning of the year," said Outman on returning to the Class AAA championship game. "That's all we've talked about. We don't talk about the league championships or the (NTL) Showdown because we just believe they'll take care of themselves. They're excited about to be ready to play for another one."
Prough shared Outman's excitement about getting another shot at a district title.
"We're all excited. The last title game we were in I was a sophomore and we really had a let down. We didn't play our best game. So I'm really looking forward in my senior to go out with a bang and I'm really hoping to get over the hump that we've been in for the past eight years because we've been there a lot of times."
Wellsboro and Loyalsock's game is at a date, time, and location to be determined.