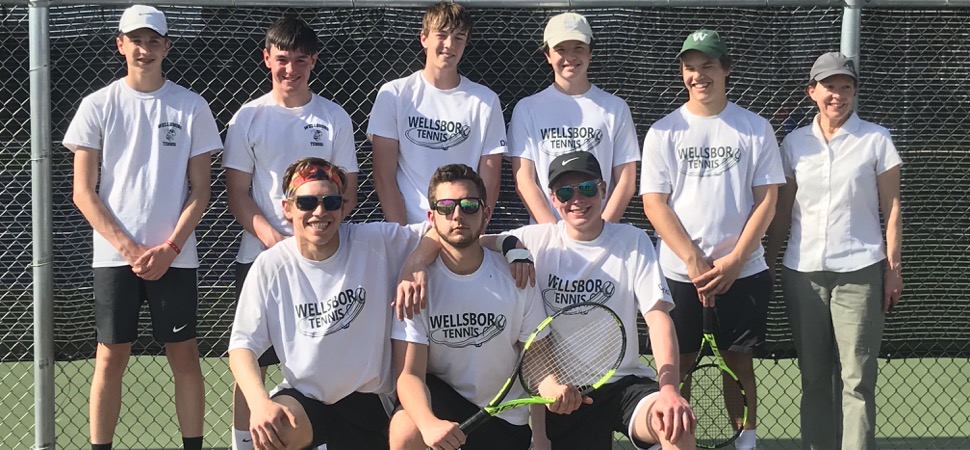 Hornets top Hughesville 3-0 in District Tennis Quarterfinals
By: Ed Weaver | NTL Sports | May 2, 2018 | Photo courtesy Maureen Poirier
The Wellsboro Boys Tennis team picked up a 3-0 win over Hughesviile in the opening round of the PIAA District IV Class AA team tournament on Tuesday, May 1.
"Our team stuck to their plan and executed beautifully," said head coach Margery Hoffman. "In singles, we won all three first sets, but only 3rd singles was able to win the second set for a team point. Both doubles teams had a slow start, with 2nd doubles rebounding in the first and winning the second set quickly to claim the first of the needed three team points. 1st doubles won in three after very tough Heartland league team and came out on top. We look forward to competing in the semi-finals next week."
Singles Results
Nate Redell vs. Ethan Burns 6-4, 3-6, 2-1 (pulled)
Frankie Rexford vs. Logan Burns 6-3, 3-6, 1-3 (pulled)
Will Poirier def. Nic Shakaryo 6-4, 6-3
Doubles Results
Noah Fitch/Gabe Leach def. Parker Voitek/Spencer Thomas 2-6, 6-4, 6-1
Luke Leach/Ryan Stough def. Dylan Lawson/Taylor Mason 7-5, 6-1
The Hornets (14-1) take on #2 Central Columbia next Tuesday, May 8 at Muncy at 1:00 p.m. in the Class AA semi-finals.