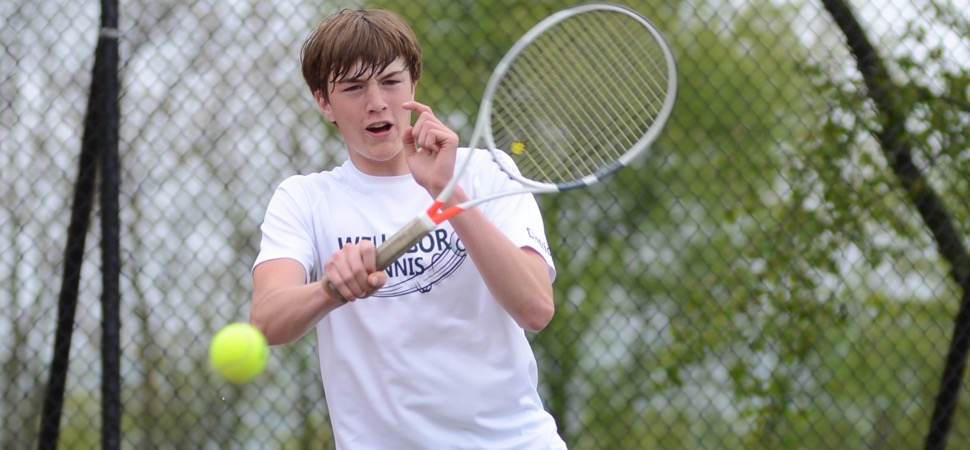 Hornets' tennis season comes to an end at District Doubles
By: Ed Weaver | NTL Sports | May 15, 2018 | Photo courtesy Brett R. Crossley
The Wellsboro Boys Tennis team's season came to an end on Monday, May 14 at the PIAA District IV Class AA doubles tournament at Williamsport Area High School.
The team of senior Ryan Stough and sophomore Luke Leach were eliminated in the first round by Central Columbia's Avery Pruden and Conor Ryan in straight sets: 6-0, 6-4.
The team of senior Noah Fitch and junior Nate Redell advanced to the quarterfinals. The pair won their opening round match, 6-2, 6-1, against Montoursville's Andrew Stapp and Ben Watts. In the second round they defeated Jersey Shore's Dylan Lietch and Niall Lanks 6-0, 6-3 to advance to the quarterfinals against Mifflinburg's Nolan Beck and Tom Lichtel, the top seed in the tournament. Beck and Lichtel defeated Fitch and Redell 6-3, 6-0.
"Both doubles teams gave a good effort employing their best strategy," said head coach Margery Hoffman. "We could have done a better job getting first serves in, and a few double faults left us at a disadvantage. The matches were very well-played and fun to watch. This was the last performance for seniors Ryan Stough and Noah Fitch. They will be missed!"
View the brackets through the quarterfinal round on the PIAA District IV website.