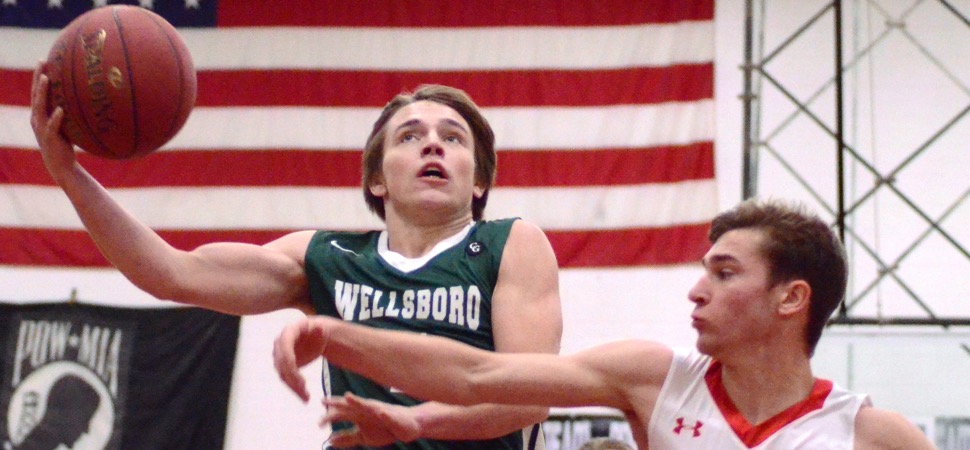 Hornets sting Trojans, 79-27
By: Ed Weaver | NTL Sports | January 3, 2018 | Photo courtesy Brian Fees
A 22-point first quarter led the Wellsboro Varsity Boys Basketball team past Troy, 79-27 on Tuesday, January 2 in NTL Large School Division action.
The Hornets' swarming defense forced 10 early turnovers for Troy and only allowed 4 first-quarter points. Wellsboro's 22-point opening quarter was keyed by senior Dalton Prough with 9 points. Wellsboro's defense kept the pressure on Troy into the second quarter and outscored them 19-10 to take a lopsided 41-14 lead into the half.
Wellsboro's starters played midway through the third quarter and again held the Trojans to just 4 points, all of which came at the foul line, while pouring on 19 more points in the quarter. After the third the Hornets led 60-18.
The Hornets' bench saw action in the final quarter and outscored Troy 19-9 to roll to their seventh straight win.
Prough finished with a game-high 13 points to lead four Hornets in double-figures on the evening. Senior Quinn Henry scored 12, senior Nic Ingerick had 11, and senior Collin Pietropola finished with 10. Freshman Joseph Grab added 9 points off the bench, junior Brandyn Tuttle scored 7 points and grabbed 11 rebounds, junior Andrew Brelo scored 7, juniors Holden Kennedy and Hunter Brown both added 4 points each, and junior Bergen Weiner pitched in with 2 points from the foul line.
Prough added 5 rebounds, 5 assists and 2 blocked shots; Henry made 4 assists, grabbed 3 rebounds, and made 3 steals; Ingerick had 4 assists; and Pietropola grabbed 5 rebounds, blocked 3 shots and had 2 assists and 2 steals. Hunter Brown added 3 rebounds, junior Tanner Button made 3 assists, and junior Robert Brown grabbed 2 rebounds.
Wellsboro won the JV game 39-29 to improve to 5-2. Grab led Wellsboro with 16 and sophomore Billy Lechler pitched in with 11.
The win improves the Hornets to 8-1 (5-0 NTL Large School Division). The team will be back in action on Thursday, January 4 at home against Towanda.