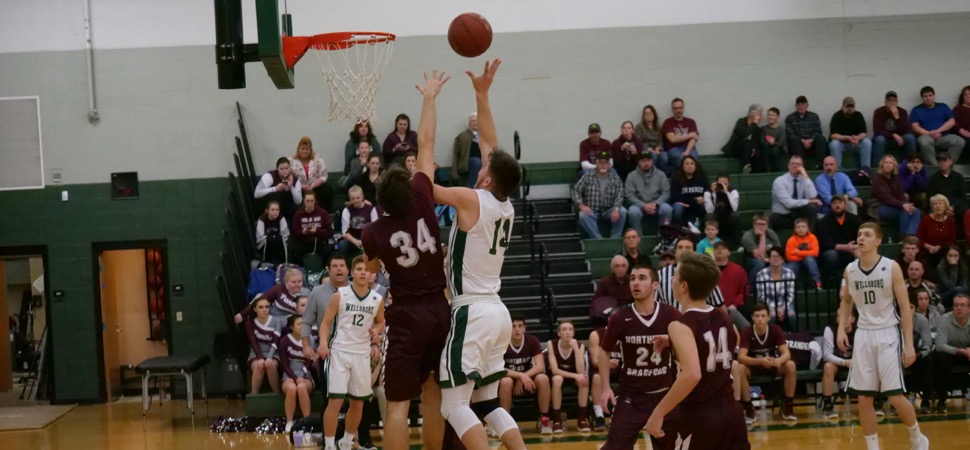 Hornets steamroll NEB, 87-20 to return to NTL Showdown finals
By: Ed Weaver | NTL Sports | February 16, 2018 | Photo courtesy Dr. Robert Bair
The Wellsboro Hornets increased their win streak to 21 games with a lopsided 80-27 victory over Northeast Bradford in the NTL Showdown semi-finals on Thursday, February 15.
Despite a 10-day break from their last game, to Thursday's Showdown semi-final, the Hornets showed no signs of rust. Right from the opening tip the Hornets came out firing on all cylinders. A turn-around jumper in the paint by senior Dalton Prough put the Hornets up early, then junior Brandyn Tuttle took over. Tuttle scored 9 points in the quarter to lead the Hornets to an 18-6 lead after the opening quarter.
Wellsboro went on a 21-10 tear in the second to put the game completely in their favor. This time Prough took over with 14 points. Tuttle added 5 more points in the quarter and junior Andrew Brelo chipped in with two as the Hornets held a 39-16 lead at the half.
The third quarter was the Hornets' best of the night as they kept the pedal on the accelerator and put up 24 more points, while holding the Panthers to just 7. Prough added 4 more points, Tuttle scored 10, and junior Hunter Brown added four in the quarter to put the Hornets up 63-23. The Hornets closed out the night with 17 fourth-quarter points, with 9 coming from freshman Joseph Grab.
Tuttle and Prough both had huge nights for the Hornets as both scored 20-plus points. Tuttle led all scorers with 26 points and grabbed 11 rebounds for his 16th double-double of the season. Prough finished with 25 points and had 7 boards. Prough is now at 930 career points and surpassed the 200 assist (201) club.
Junior Holden Kennedy and senior Quinn Henry finished with 5 points each and seniors Nic Ingerick and Collin Pietropola added 2 points.
Henry added 7 assists, Grab had 3 assists and 3 steals, junior Tanner Button had 3 steals and 3 rebounds, and Pietropola added 6 rebounds.
"We just got to come and play the way we're supposed to play and I thought we did that tonight," said head coach Todd Outman. "I wasn't sure how they would respond with being off for so long. They've worked hard in practice and sometimes you can come out flat when you have good intensity in practice and that's what we've had, but tonight they came out and played and I thought the big difference in tonight's game in all honesty was I thought we got great minutes and great scoring from our bench. I thought they did a fantastic job tonight."
Next up for the Hornets is another meeting with rival North Penn-Mansfield in the Showdown finals. The game will take place at Mansfield University's Decker Gym following the Lady Hornets' championship game with Athens at 7:30 p.m.