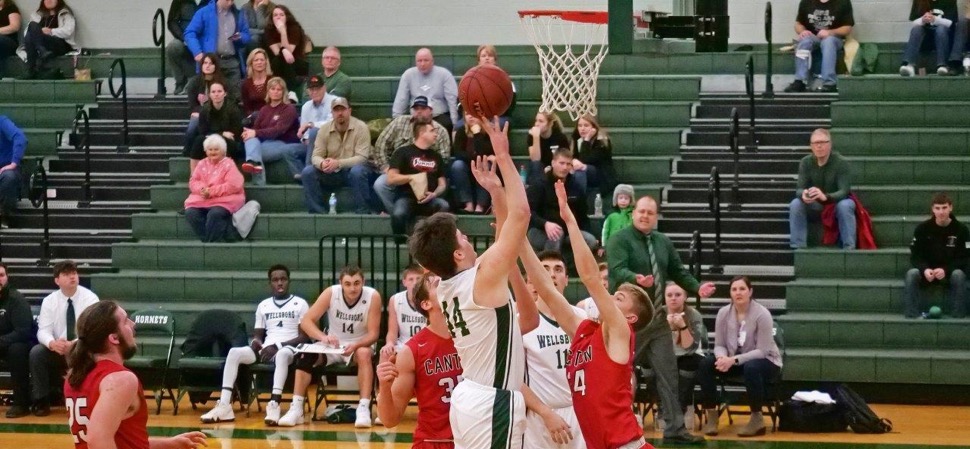 Hornets steamroll Canton
By: Ed Weaver | NTL Sports | December 22, 2018 | Photo courtesy Dr. Robert Bair
Seniors Andrew Brelo and Brandyn Tuttle combined for 42 points as the Wellsboro Varsity Boys Basketball team defeated Canton 72-24 on Friday, December 21.
Brelo scored a career-high 22 points, 11 in the first quarter, as he shot 40% from behind the three-point line and Tuttle recorded his 22nd career double-double with 20 points and 10 rebounds.
Wellsboro jumped out to a 24-6 lead after the first quarter then scored another 24 points in the second to take a 48-13 lead at halftime. With the running clock in the second half, the Hornets outscored the Warriors 24-11 to claim their fourth straight victory.
"Tonight was a good night for us as team," said head coach Chase Kriner. "We communicated well and our defensive pressure forced a lot of turnovers which led to transition plays for us. When we had to we showed good disciple and ran the offense well. Andrew Brelo is relentless on the defensive end, he's 6-6 and comes after you and his teammates do a great job reading and making plays off the pressure he puts on. We shot well from the field and free throw line. Hopefully we have a good Christmas break and prepare for St John Neumann next Thursday."
In addition to Brelo's and Tuttle's 20-plus points, sophomore Joseph Grab and senior Hunter Brown also scored in double figures. Grab finished with 13 points, 2 rebounds, and 2 assists while Brown tied his career-high with 10 points and grabbed 4 rebounds. Junior Karter Witmer scored 3 points and senior Tanner Button and freshman Isaac Keane rounded out the scoring with 2 points each.
Button also added 5 assists, Keane grabbed 3 rebounds, and senior Holden Kennedy had 2 steals.
In the JV game the Hornets evened up their record at 2-2 with a 52-41 win. Witmer scored a team-high 15 points, freshman Liam Manning scored 12 and Keane added 11.
The win improves the Hornets' record to 4-2 (4-0 NTL Large School Division). The team will be back in action on Thursday, December 27 on the road agaisnt St. John Neumann.