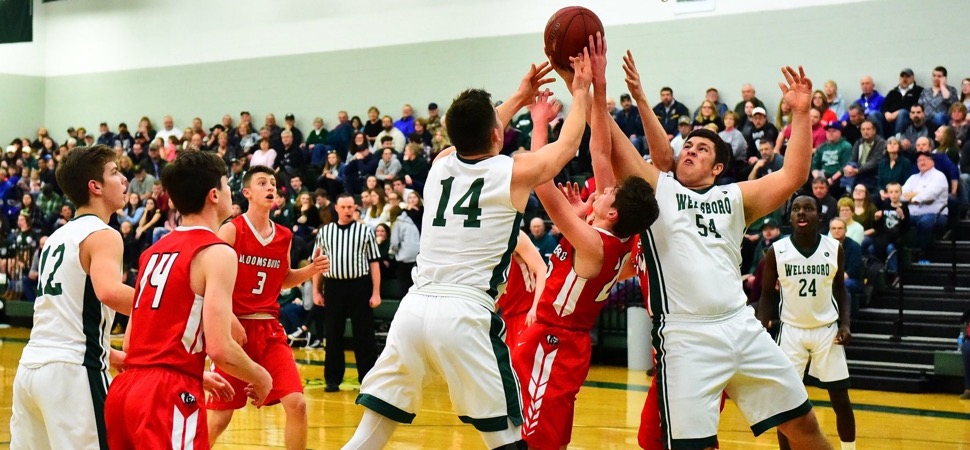 Hornets secure Class AAA playoff victory over Bloomsburg
By: Ed Weaver | NTL Sports | February 24, 2018 | Photo courtesy Tim McBride
The Wellsboro Varsity Boys Basketball team picked up a District IV Class AAA quarterfinal win over Bloomsburg on Friday, February 23.
The Hornets started out with a 14-6 lead after the first quarter, but Bloomsburg outscored the home team 13-11 in the second to cut it to 25-19 at halftime. Wellsboro then picked it up in the third quarter and outscored the Panthers 17-6 to jump out to a firm 42-25 lead.
The Hornets again outscored Bloomsburg in the the fourth, 17-13, with 13 out of their 17 points coming from the foul line to go on to win, 59-38.
Junior Brandyn Tuttle recorded his 17th double-double of the season with 16 points and 16 rebounds to lead Wellsboro. Senior Dalton Prough scored 14 points, and had 5 rebounds and 5 assists. Seniors Quinn Henry and Collin Pietropola and junior Andrew Brelo all added 8 points each, senior Nic Ingerick chipped in with 3 points, and junior Hunter Brown rounded out the scoring with 2 points.
Prough and Tuttle also added 4 steals each and Pietropola added 5 rebounds.
"They played hard but we struggled the first half," said head coach Todd Outman. "I thought a coupe individual players struggled a little bit, but I thought Collin really picked it up for us the second half. He gave us a lot of inside presence. Brandyn struggled a little bit early on, which he normally doesn't do, but as always these guys never give up. They hung in there. It wasn't our best effort so to speak. We'll take the victory and move on to the next game."
Next up for Wellsboro is a rematch with #5 Southern Columbia, 59-56 winners over Troy, at a date and time to be determined.