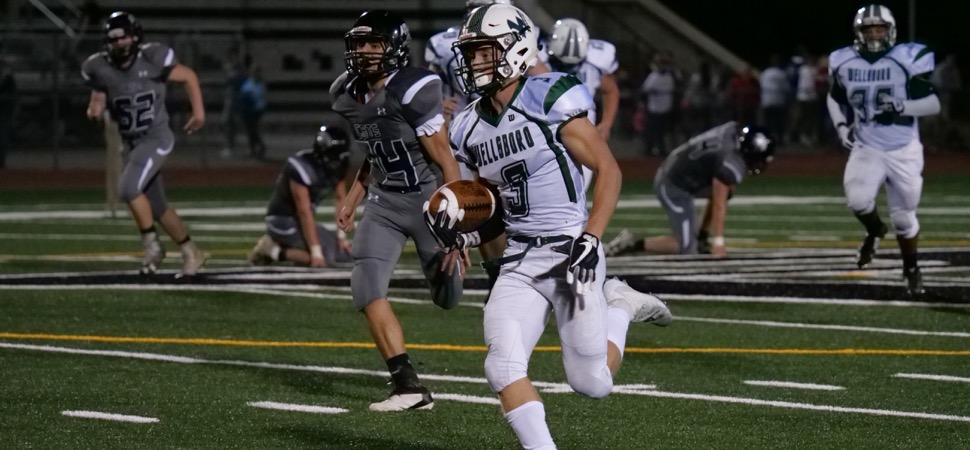 Hornets rally from 21-point halftime deficit to beat Athens
By: Ed Weaver | NTL Sports | September 29, 2018 | Photo courtesy Dr. Robert Bair
Trailing 21-0 at halftime, the Wellsboro Varsity Football team outscored the Athens Wildcats 35-7 in the second half to score a 35-28 win and remain undefeated.
While Athens' defense minimized Wellsboro's offense early on, their offense took advantage of good field position to jump out to an early lead. After a lost fumble by junior Aidan Hauser was returned down to the Wellsboro 4, Damian Hudson found the end zone from that distance to put the Wildcats up 7-0 with 8:46 left on the clock.
After holding the Hornets to anothe three-and-out Athens put together a 7-play drive that ended with another Hudson touchdown run, this time from 13 yards out to make it 14-0. Wellsboro's offense continued to sputter on their third drive, as they were forced to punt from their own 13-yard line, junior Carson Davis boomed a 75-yarder, the second longest punt in Wellsboro history, down to the Athens 12.
That didn't stop the Wildcats, however, as they put together another drive that ended in their third touchdown of the evening. The Wildcats' Kaden Rude sparked the drive on a 23-yard run down into Wellsboro terriroty, then after a 15-yard pass to brother Keegan and a 12-yard run by Nick Watkins, the Wildcats were down at the Hornet 8. Two plays later Rude hit Ben Pernaselli from 7 yards out to push the Wildcats' lead to 21-0 with 8:51 left in the half.
Just like the last few weeks, despite the large lead, Wellsboro came alive in the second half.
"In the first half I thought we didn't play team football," Hornet head coach Matt Hildebrand (55-9) said. "We were selfish out there, and at halftime we said, 'we're either going to come together as a team or or we're going home sad and lonely at this point.' No one was arguing, we played as a team, we came together out there and that turned things around a little bit."
On the Hornets' opening drive of the second half with a 2nd-and-25 at their own 18-yard line, junior quarterback Karter Witmer found senior Isaac Bechtel wide open and unaccounted for. The senior took the ball 81 yards down to the Athens 1. A play later, junior Alex Burrell punched the ball in to cut the lead to 21-7.
Athens' next drive ended as Rude threw an interception, but while the Hornets didn't score on offense, they produced another special teams score after holding the Wildcats to a three-and-out. With Hauser back deep the junior fielded the punt at his own 29-yard line and took it to the house for 71 yards and a score. After sophomore Zach Singer's extra point, suddenly the Hornets were back to within 7 points.
Athens mounted a drive following Wellsboro's last touchdown to increase their lead back to 14. The Wildcats put together 10 plays, and thanks to two Wellsboro personal fouls, managed to find the end zone on a two-yard run by Rude with 2:05 remaining in the third quarter. Wellsboro's ensuing drive ended in an interception, but the Hornet defense held the Wildcats to a three-and-out and a punt. After junior Silas Wagaman was dropped for a loss back to the 45 on the return, Hauser ripped off a run of 19 yards into Athens territory. Burrell followed that up with a 5-yard run before Hauser scored from 31 yards out to cut the lead to 28-21 with 10:26 remaining.
Wellsboro forced another Athens punt on their following drive, thanks in part to a sack on Rude by senior Hunter Brown. That sack, and 29-yard return by Hauser on the punt set the Hornets up at the Wildcats' 46-yard line. On 3rd-and-8 from the 44 Witmer hit Wagaman for a 14-yard gain down to the Athens 30. One play later Hauser knotted the game at 28-all as he scored from 30 yards out for his third touchdown of the game.
Again Wellsboro's defense dug in and prevented Athens from gaining any territory, thanks to an 11-yard sack by sophomore Danny Timmons on 3rd-and-6. After the punt Wellsboro fed the ball to Hauser, with the junior scampering into the end zone from 7 yards out with just 43 seconds remaining to give Wellsboro their first lead of the night.
With one final chance Rude tried to get the Wildcats back into Wellsboro territory. Rude managed to break a 14-yard run to move the ball near midfield, then after an incomplete pass, he found Aric Westbrook for a gain of 4. On their final play Rude passed to Rude, then the Wildcats kept lateraling the ball in hopes to catch Wellsboro off guard, but the Hornets came up with the tackle and ended the game.
"I thought Karter stepped in and played really well at quarterback," continued Hildebrand. "He gave us that spark and had a nice read on that ball. On that play he came off his primary receiver and hit a guy with some blown coverage and was wide open. That got us moving in the second half and set the tone. I'm obviously happy with the win but I'm a little disappointed in the number of personal fouls and penalties that are very controllable. I feel I say this every week, but it really needs to change or it's going to catch up to us."
Witmer finished the game 4-for-8 for 102 yards passing. Bechtel led the Hornet receivers with his only catch for 81 yards. Wagaman made 2 catches for 17 yards and Hauser grabbed one pass for 4 yards. Hauser finished with 159 yards and 3 touchdowns on 19 carries to reach 860 yards for the season and 1,912 for his career. Burrell gained 21 yards on 5 carries and Witmer picked up 4 yards on one carry.
Next up for Wellsboro (6-0, 5-0 NTL Large School Division) is their annual Homecoming game against the Milton Black Panthers on Friday, October 5.
"Maybe that'll provide a spark and we can play 4 quarters of football because as of this point we haven't done that. Maybe with Homecoming they'll be ready to roll right out of the gate," Hildebrand concluded.