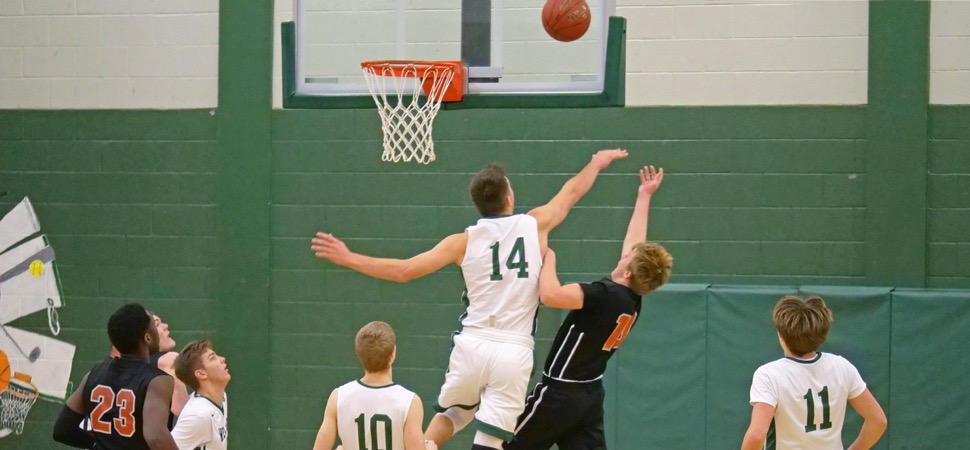 Hornets pick up hard-fought win over Jersey Shore
By: Ed Weaver | NTL Sports | January 15, 2018
The Wellsboro Boys Basketball team picked up a hard-fought win in a physical 49-30 game with Jersey Shore on Monday, January 15.
"To hold Jersey Shore to 30 points is pretty impressive," said head coach Todd Outman. "They're a good basketball team and our kids just fought hard. We shot terrible again tonight, and that's something we have to work on in practice, but defensively holding them to 30 points it's a great night."
The Hornets shot just 33% from the field and just 5% (1-of-17) from behind the three-point line.
After trailing 16-13 after the first quarter, Wellsboro's defense tightened up and held the Bulldogs to just 14 points the remainder of the game. The Hornets started the second quarter with a layup by senior Quinn Henry to make it a one-point game before junior Tanner Button put the Hornets in front with the team's only three-pointer of the game to make it 18-16. Wellsboro would go on a 14-5 run to close the half leading 27-21.
Jersey Shore started the second half with a layup and made a pair of foul shots to cut Wellsboro's lead to 27-25 before a layup by senior Nic Ingerick pushed it back up to 29-25. A basket by senior Dalton Prough made it 31-25 before a three-pointer by the Bulldogs' Jay Dincher cut it back to 31-28. After that point the Hornets bagan pulling away as junior Brandyn Tuttle hit a pair of foul shots then a tough layup to put the Hornets up 9, 37-28.
Wellsboro closed the third leading 37-28, then held the Bulldogs to just 2 fourth quarter points to close out their 12th straight win.
Senior Collin Pietropola led all scorers with 14 points on the night, 8 of them coming in the first quarter. Tuttle recorded his 5th straight double-double, and 10th double-double of the year with 13 points and 23 rebounds (16 defensive).
"He (Tuttle) is a heck of a rebounder and he demonstrated that again tonight," Outman said. "It was a huge game for Collin. We had to have that tonight because we were shooting poorly from the outside. The inside guys stepped it up for us tonight and that was the difference."
Prough and Henry both finished with 8 points, Button had 3 off the bench, Ingerick finished with 2, and junior Andrew Brelo rounded out the scoring with a point.
Henry add 4 assists and 2 steals to his point total, Tuttle had 4 steals, Button made 3 steals, junior Holden Kennedy blocked a shot, and Prough added 5 rebounds.
Dincher finished with 10 for Jersey Shore.
In the JV game, Jersey Shore edged Wellsboro 34-33 to drop the Hornets to 7-5. Freshman Joseph Grab led all scorers with 14 points.
The win improves the Hornets to 13-1 (9-0 NTL Large School Division). The team will be back in action at home on Wednesday against Wyalusing.
"We need to make sure we contain (Jon) Morrison," Outman said of Wyalusing. "He's a pretty good player and I haven't seen them yet but if we do what we're supposed to do I think we'll be fine."