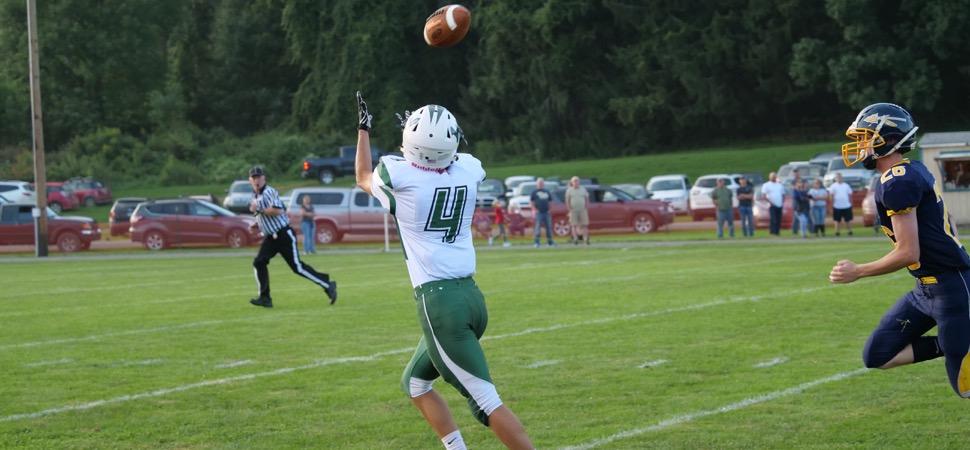 Hornets overcome slow start to roll past CV
By: Ed Weaver | NTL Sports | August 25, 2018 | Photo courtesy Dr. Robert Bair
Week one football games usually start out sloppy, and that was the case in the Hornets' opener against Cowanesque Valley on Friday, August 24.
"We have a lot of guys on the field for the first time and for some its really only their second year playing," said head coach Matt Hildebrand after his 50th career win. "It think some of that was to be expected but we overcame it and moving forward we can learn from it. We have a lot of good film from tonight and hopefully we'll start faster next week."
After the Hornets forced a Cowanesuqe punt after 5 plays, junior Aidan Hauser fielded the ball and sprinted towards the opposing end zone. Wellsboro was called for holding, however, eliminating an 81-yard return and bringing the ball back to the Hornet 11. Wellsboro managed only one first down, a 13-yard carry by Hauser, but turned the ball over on downs at their own 31.
The Hornets returned the favor by holding the Indians on downs on their next drive, getting the ball back on their own 30-yard line. On the Hornets' second play, junior Karter Witmer connected with Silas Wagaman on a 70-yard pass to put the Hornets in front 7-0 following sophomore Zach Singer's extra point.
From that moment on the Hornets found their groove. An interception by Wagaman killed CV's ensuing drive which led to a Hauser 1-yard touchdown with 2:39 remaining to make it 14-0.
Another interception, this time by sophomore Alex Moore, ended CV's third drive. Three plays later the Hornets were back in the end zone. Witmer found Wagaman wide open again, this time for 47 yards, to make it 21-0 just 52 seconds into the second quarter. After both teams traded drives under the midway point of the quarter, Hauser again broke through the CV defense and scampered 46 yards to paydirt. Singer's kick put Wellsboro up 28-0 with 3:17 remaining.
The Indians picked up some yards on their next drive, mainly by Taaj Dallas, but were forced to punt on their own 47. Hauser fielded the punt at his 26 and returned it to the CV 35. Three plays later, Wagaman caught his fourth pass from Witmer and punched it in from 19 yards out for his third touchdown of the night, tying him for first all-time in a single game in Wellsboro history. Singer's kick split the upright and the Hornets led 35-0 at halftime.
With the starters on the sidelines Wellsboro's second team offense took the field. After runs by Moore, junior Alex Burrell and freshman Isaac Keane Moore capped the drive from 26 yards out. Singer converted the kick to put the Hornets up 42-0 with 8:58 remaining.
The Indians finally found the end zone with 5:11 left in the game as quarterback Seth Huyler punched the ball in from 3 yards out to cut it to 42-6 after their two-point conversion failed.
Wellsboro managed one final score before time expired as freshman Kanan Keck rumbled his way into the end zone from 10 yards out, bringing the final to 49-6 for the Hornets.
Witmer finished his first career Varsity start 4-for-8 through the air for 148 yards and 3 touchdowns, all caught by Wagaman. Hauser finished with 158 yards on 15 carries and two scores and Moore put up 71 yards on 4 carriers.
"I was a little nervous. It was my first start and same for many of the guys on the team but we broke through some of the cobwebs and finished it with a win," Witmer said.
"All three guys played really well," Hildebrand continued. "Unfortunately Hauser had three touchdowns called back. He's a dangerous weapon. I'm really also happy with our quarterback play, that was definitely a question mark coming into this season so I was happy that Karter stepped up and took control of the game. And Silas, he's going to be a weapon for his so I'm hoping we can hide him for as long as we can."
Defensively Burrell led the Hornets with 10 tackles, senior Hunter Brown had 7, senior Robert Brown had 8, and senior Tanner Button and Wagaman both finished with 4 tackles each. Wagaman and Moore (2) recorded interceptions for Wellsboro.
"Between Hunter, Robert and Zach Florio it makes it tough for anybody," said Hildebrand of his defense. "Those three are going to be the core of our defense and I think those three will allow some of the newer guys we have out there to mature."
Huyler completed 5-of-14 passes for 86 yards for the Indians while Dallas was the leading receiver (3 receptions for 56 yards) and rusher (54 yards on 11 carries).
Next up for the Hornets (1-0, 1-0 NTL Large School Division) are the Troy Trojans at the Wellsboro Community Athletic Complex.
"We always have battles with Troy every year. I know them well, they're a well-coached team and are hard-nosed kids. I know that it'll be a physical game, every year its one of the most physical games on our schedule. We need to match their physicality and stop them."