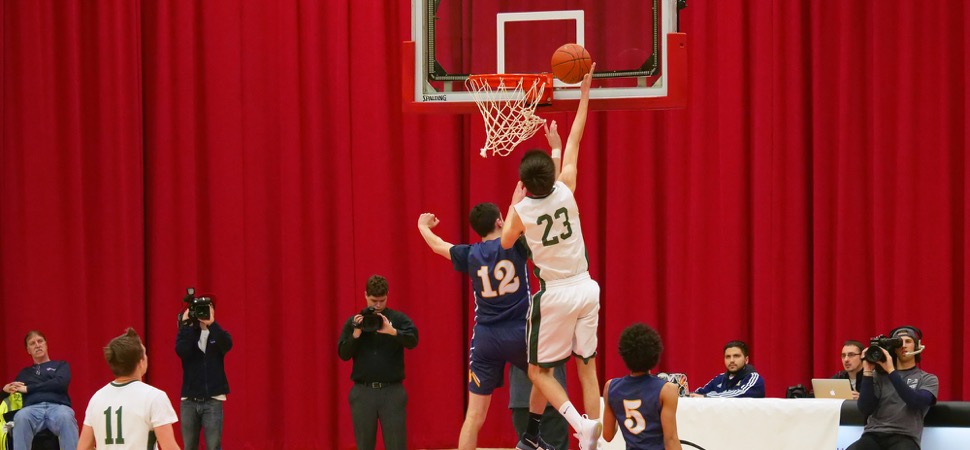 Hornets' magical season comes to an end in PIAA opener
By: Ed Weaver | NTL Sports | March 11, 2018 | Photo courtesy Dr. Robert Bair
A week after claiming the program's first-ever District IV championship, the Hornets' magical 2017-18 season came to an end at the hands of Notre Dame-Green Pond in the first round of the PIAA state tournament on Saturday, March 10.
The Hornets were neck-and-neck with NDGP the entire first half. Wellsboro trailed 12-11 after the first and 22-21 at halftime, but were outscored 11-6 in the third quarter to find themselves trailing 33-27.
Wellsboro got back in the game with two quick baskets to start the fourth, then eventually tied it at 35-35 as junior Andrew Brelo stole the ball and went coast-to-coast for a layup midway through the quarter. That however is when the Hornets went cold. NDGP went on a 6-1 run to lead 41-36 with 1:35 remaining.
The Hornets closed the gap with a long three-pointer by senior Dalton Prough to cut it to 43-41 with 37 seconds left, but again NDGP held the Hornets scoreless for the remaining time and held on for a 48-41 win.
As the season comes to an end, head coach Todd Outman reflected on what this year's team has meant to him.
"This group has meant a ton. I'm probably not the easiest guy to play for but they stuck through all the stuff and we finally got to the goal that we wanted. We wanted to make a run in states but tonight wasn't our best game. You can't have those types of games we had tonight when you're playing against teams in the state tournament."
Junior Brandyn Tuttle led the Hornets in their final game with 17 points and 4 rebounds. Tuttle scored 428 points and pulled down 310 rebounds this season and is at 555 points and 450 rebounds for his career.
Prough finished with 14 points, 3 rebounds, 1 block, and 1 steal in his final game. The senior, and Wellsboro's latest 1,000 point scorer, finishes his career with 1,015 points, 482 rebounds, 214 assists, 66 blocks, and 170 steals.
Rounding out the scoring for the Hornets on the night were Brelo with 7 points and senior Collin Pietropola with 3. Pietropola capped his career with 538 points, 340 rebounds, 94 assists, 15 blocks, and 70 steals.
Senior Quinn Henry finished with 675 career points, 258 rebounds, 251 assists, 8 blocks, and 120 steals. Senior Nic Ingerick finished with 318 points, made 53 three-pointers, 91 rebounds, 96 assists, 3 blocks, and 80 steals.
As a group, the 2017-18 senior class had an 83-30 record during their four years.
The loss ends the Hornets' season at 26-2 (.929), snapping their 25-game win streak. This year's record tied the 1993-94 team's record with 26 wins in a single season, and trails the 1994-95 team's record (27-3, .900) as the most wins in Wellsboro Boys Basketball history.