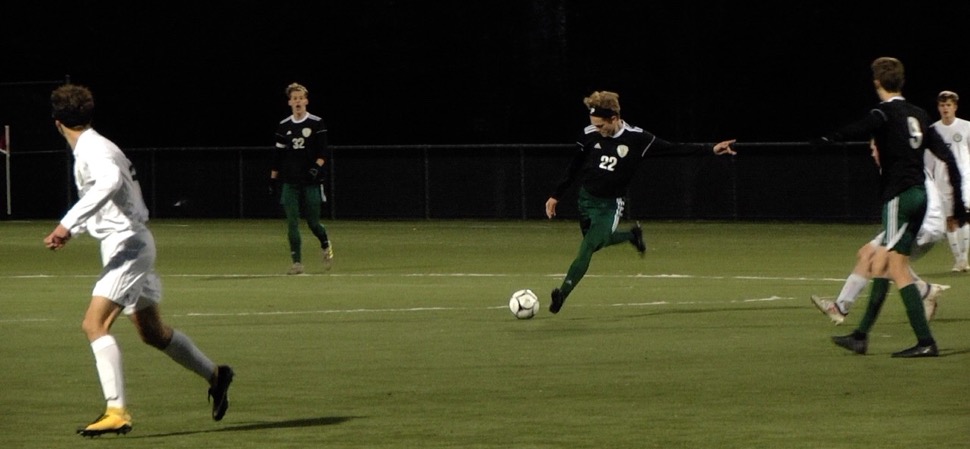 Hornets fall to Lewisburg in D4 AA quarterfinals
By: Ed Weaver | NTL Sports | October 30, 2018 | Photo courtesy The Home Page Network
The Wellsboro Varsity Boys Soccer team's season came to an end in the District IV Class AA quarterfinals to Lewisburg on Monday, October 29.
Lewisburg shut out the Hornets 3-0 with all three of their goals coming in the first half. Ryan Veloz found the back of the net midway through the half on a penalty kick to give the Green Dragons an early lead. Four minutes later James Koconis struck off an assist from Jack Dieffenderfer to make it 2-0.
Koconis scored a second time of another Dieffenderfer assist with 2:34 remaining.
Lewisburg's offense controlled the game's tempo and kept senior goalie Nate Redell busy. The Green Dragons took 11 shots on goal. Redell came up with 8 saves. Further, Lewisburg's defense minimized Wellsboro's attacks and held them to just three shots on goal for the entire game. Sophomore Kaeden Mann attempted two shots and senior Brett Rudy took the other.
Lewisburg edged Wellsboro 4-3 in corner kicks.
"Anytime you lose it's a disappointment especially when it's a loss that ends your season and ends your journey," head coach Todd Fitch said following the game. "They're a good team. The boys battled and they played hard. We tried some new things. I think we were generating some momentum at times but they were just so strong defensively and we just had a hard time breaking them down."
The loss ends the Hornets' season at 14-5 (10-2 NTL).