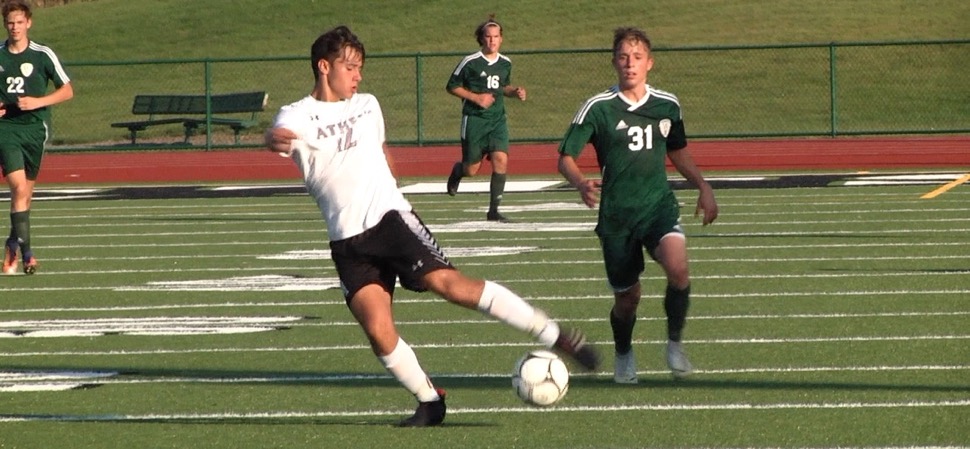 Hornets fall to Athens, 1-0
By: Ed Weaver | NTL Sports | September 6, 2018 | Photo courtesy The Home Page Network
The Wellsboro Varsity Boys Soccer team suffered a 1-0 defeat to NTL rival Athens on Wednesday, September 5 in a hard-fought contest.
The game was scoreless through the first half and until 17:40 remaining in the second. After a save by senior Nate Redell, Athens' Aaron Lane stole the ball from junior Luke Leach and pushed it up field until he found Willey Tilley for the game's lone goal, giving the Wildcats the 1-0 win.
"Defensively we were disciplined. I think we were organized and I was very impressed with our communication coming out of the back (row) and our keeper Nate Redell. The way he came off his line, took command of the box, I was very pleased with that," said head coach Todd Fitch. "I thought that we were aggressive to fill the space, so there were a lot of good things. We ran out of gas a little bit as the game went on. Athens is a good team and they're going to battle with you for the full 80 minutes so we need to continue to work to improve our conditioning, and being creative and finding spaces to score goals."
The Wildcats outshot the Hornets 12-3, with the majority of those shots coming in the second half, and had a 6-3 advantage in corner kicks. Wildcat keeper Joel Maslin stopped all three Hornet shot attempts, while Redell recorded 10 saves in goal for Wellsboro.
The loss drops the Hornets' record to 0-3 overall and 0-1 in the NTL. The team will be back in action on Saturday, September 8 as they travel to Sayre.