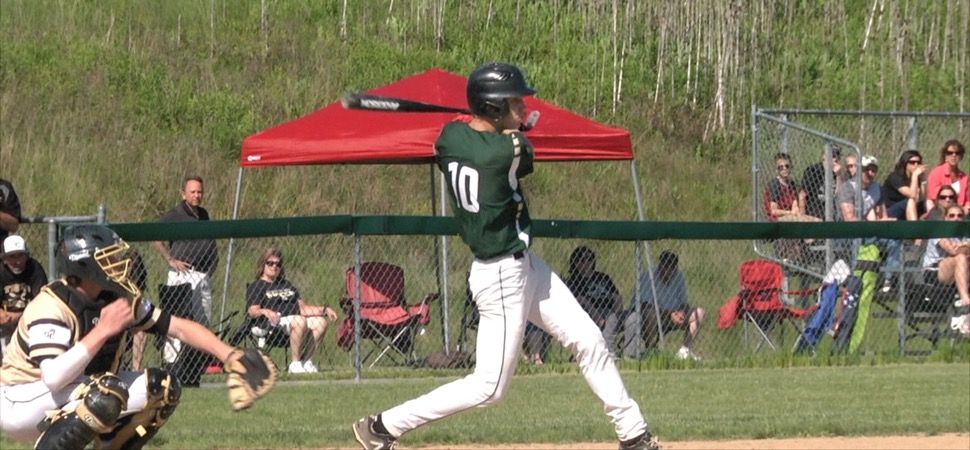 Hornets edge Southern Columbia, 8-6 to advance to D4 AA championship game
By: Ed Weaver | NTL Sports | May 26, 2018 | Photo courtesy The Home Page Network
The Wellsboro Varsity Baseball team is heading back to the District IV Class AA championship game after edging Southern Columbia 8-6 on Friday, May 25.
"We feel pretty good to be honest," head coach Philip Prough said after the game. "That's a good team and a tough team. They battled and fought and they showed that in the 7th inning."
The Hornets built an 8-2 lead in the first six innings of play, but the visiting Tigers weren't going down without a fight. The Tigers started off the top of the inning with back-to-back hits, a single by Jacob Petro and a double by Preston Zachman to put two on. Senior Johnny Rowland struck out Cole Potter but Shane Miller got ahold of the next pitch and hit it to senior Dalton Prough. The ball took a bad bounce past him allowing Petro to score making it 8-3.
With runners on the corners Justin Derk drew a walk to load the bases, then Rowland hit Brett Szuler to make it 8-4. After a switch at the pitcher's mound to bring in sophomore Carson Davis, Davis struck out Eli Hoffman to get Wellsboro to within an out of the win. Max Tillett kept the Tigers' hard hitting inning going, hitting a line drive up the middle to score Miller and Ian Yoder, making it 8-6. With two runners still on, Davis struck out Andrew Haupt looking to close out the game.
"Johnny ran out of gas there, you could really tell. This is the first day we've played in an 80 degree plus day heat wise so it's not surprising he ran out of gas. It's one of our goals that we're trying to reach to. We're happy and elated to have that opportunity but these kids are hungry. Just because we won last year doesn't really mean a thing to anybody here. We're looking forward to it."
Prior to the top of the 7th the Hornets were in complete control. In the first Prough led off with a base hit for career hit number 99, sophomore Billy Lechler then hit a line drive up the middle to move him to third. Davis then drove Prough into for the game's first run as he reached on an error. Lechler then scored on an RBI single to center field by senior Caleb Tennis.
Wellsboro added another run in the second to make it 3-0. Sophomore Silas Wagaman started things off with a walk, Prough caught the Tigers off guard and dropped down a bunt single for his 100th career hit, and junior Cam Tennis drew a walk to load the bases. Davis also drew a walk two at bats later, bringing home Wagaman.
"It means a lot. It means that I was put in positions to succeed and play pretty much since I was a freshman to get that," the youngest Prough said of reaching 100 career hits.
Prough joins brother Dawson Prough (124) who reached the mark back in 2016, and Ty Antoine (1976-1979) as the third member of Wellsboro's 100 career hit club.
"It means a lot watching my brother Dawson get it as well and just made me want to work even harder. Even though he'll have more hits than me I can say we're at least in the same club."
The Hornets kept scoring in the third, this time bringing home two more runs to push it to 5-0. Junior Taynton Repard and freshman Kaeden Mann drew walks and Wagaman laid down a bunt for a base hit, beating the throw at first, to load the bases. Prough hit into a fielder's choice in the next at bat, forcing Repard out at third, but Cam Tennis came through in the next at bat as he doubled between third and short to bring home Mann and Wagaman.
Southern finally broke through Wellsboro's defense in the top of the fourth. Hoffman was hit by a pitch to lead off the inning and Tillett singled to right field. A Haupt double to deep right field scored both Hoffman and Tillett, making it 5-2.
Wellsboro kept clicking offensively with three more runs, one in the fourth and two in the fifth. In the fourth Caleb Tennis singled to center field to score Lechler, who led off the inning with a walk. Later in the fifth, Cam Tennis hit a line drive up the middle with Mann and Prough both on to pad Wellsboro's lead to 8-2, setting up the late inning drama.
"We ended the regular season with three straight losses against three of the top tier pitching teams," continued Prough. "We weren't quite at full strength, not as an excuse, but what it does is going out and playing these teams that are twice your size, that have good pitching, really gears you up for district play. We stayed with those teams and I knew for our scouting of Southern that we'd be ready to hit."
Next up for Wellsboro (15-5) is a return trip back to the District IV Class AA championship game, in a rematch of last year's game, with South Williamsport at Central Columbia High School on Tuesday, May 29 at 4:30 p.m.
"I think South only lost two or three kids (from last year's team) so they pretty much bring everybody back so we know what we're getting into with them," concluded Prough. "Overall to us it doesn't matter who we play. If we come play our game we can win."