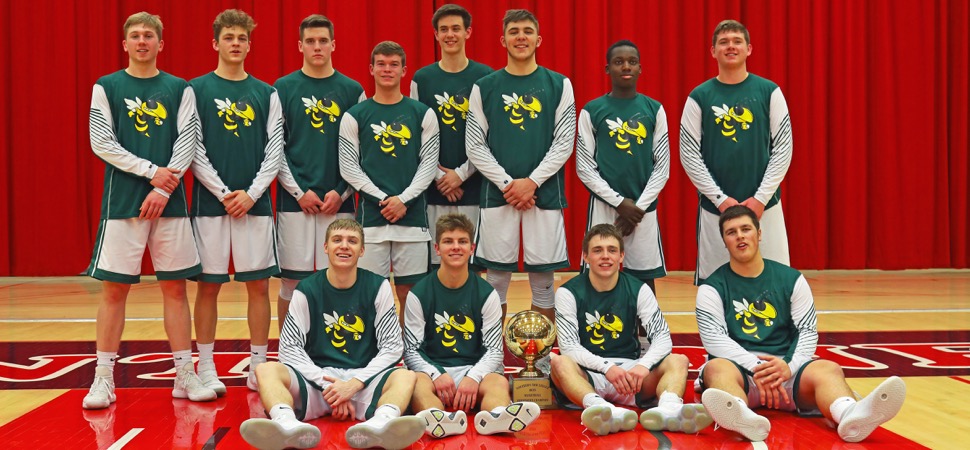 Hornets claim second straight NTL Showdown championship
By: Ed Weaver | NTL Sports | February 18, 2018 | Photo courtesy Dr. Robert Bair
The Wellsboro Hornets used a big second half to pull away from rival North Penn-Mansfield in a 60-35 win in the NTL Showdown on Saturday, February 17.
"It feels great," said Wellsboro head coach Todd Outman. "I've said before but I'm really happy for these kids. Our goals this year were to win a league title, win the Showdown and you know hopefully good things will happen in districts. Right now we're 2-for-3 and hopefully we can make it 3-for-3."
The Tigers got off to a fast start on quick baskets by Garrett David and Dylan Meyer to go up 6-2 two minutes into the game. Eventually the Hornets cut the Tigers' lead to just one point. Layups by seniors Quinn Henry and Dalton Prough cut it to 9-8 with two minutes remaining. North Penn-Mansfield went back up four on a three-pointer from Jacob Green, but back-to-back three's by Prough put the Hornets ahead for good at 14-12 with just over a minute left in the first.
Turnovers by the Hornets kept the Tigers close through the rest of the first half despite Wellsboro going on a 17-13 run. After trailing by 5 midway through the quarter Meyer hit a jumper and two foul shots cut it to 21-20. After Wellsboro pushed the lead back up to 23-20, two Green foul shots again made it a one point game. Wellsboro again pushed the lead to three, only to have Green hit a three-pointer to tie it up. Wellsboro would go on to hit four goul shots and a layup to take a 31-25 lead into the half.
The second half is when the Hornets really turned up the defensive pressure on the Tigers. Two early jumpers by senior Collin Pietropola and Henry pushed the lead to 10 and eventually 12 after a three by freshman Joseph Grab. The Hornets outscored Mansfield 11-5 in the third to lead 42-30.
The Hornets saved their biggest quarter for last as they went on an 18-point tear while holding the Tigers to just 5 points to lock up the win, and their second straight NTL Showdown victory.
"I wasn't happy the way we were playing in the first half," continued Outman. "They stepped it up, they're competitors. I didn't think we played our best game in the first half, that's kind of what I talked to them about. I didn't think we could play any poorer even though we shot the ball well, but defensively it allowed them to stay in the game and we talked about that. They worked on it, they stepped up to the plate and held them to 10 points in the second half."
Three Hornets scored in double figures on the night, led by Prough with a game-high 18, Henry with 12, and junior Brandyn Tuttle with 11. Grab finished with 7 off the bench, Pietropola and senior Nic Ingerick scored 4 points each, and juniors Holden Kennedy and Andrew Brelo had 2 points each. Tuttle finished a rebound shy of a double-double, Henry had 4 assists and 4 rebounds, Prough had 4 rebounds and 3 steals, Ingerick had 3 assists, and Pietropola grabbed 3 rebounds and blocked 3 shots.
Green and Meyer led North Penn-Mansfield with 10 points each and Brent Burleigh finished with 5.
The win improves the Hornets to 23-1, tying a season best under Outman in his eight years (Wellsboro went 23-3 in 2012). The Hornets are the top seed in the District IV Class AAA playoffs, and will await their upcoming opponent at a date and time to be announced.