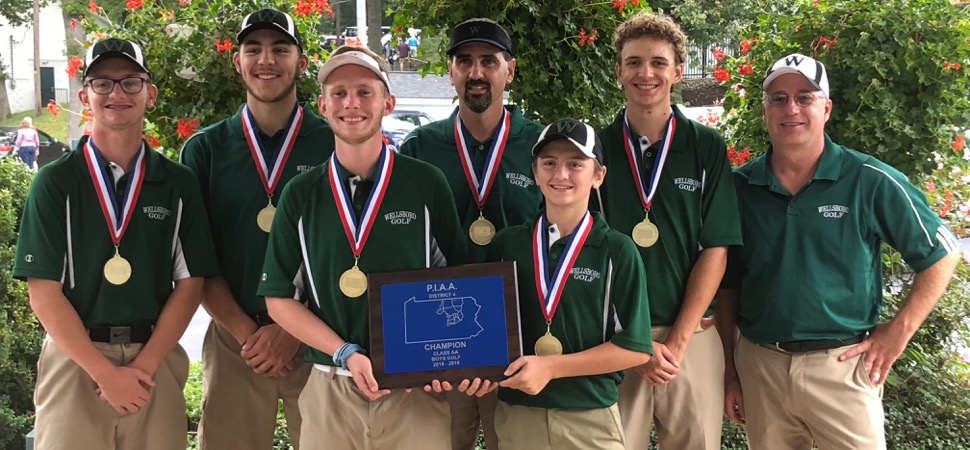 Hornets capture District 4 golf championship
By: Ed Weaver | NTL Sports | October 5, 2018
For the first time since 1981, the Wellsboro Golf team were crowned District IV Class AA Golf team champions.
Last season the Hornets finished 3rd overall and were determined at the beginning of the year to bring home a team title. They did just that on Thursday, October 4 at Williamsport Country Club.
"Winning the team title is unbelievable," head coach Steve Macensky said. "This was our goal at the beginning of the season. These kids have worked so hard to accomplish this goal. I can't be more proud of them. It has been a total team effort all season along. This gives us an opportunity to continue playing and possibly reach the state tournament as a team."
All season long the Hornets (33-1, 29-1 NTL) have had multiple finishers in the top 5 and 10. Thursday's match was no different, despite playing in wet conditions, as senior Ben Barnett was 3rd overall on day one with a round of 74 (3 over par).
"The course played surprisingly dry today it was in great condition for the weather, greens were speedy but received the ball well. I was very happy with the course," Barnett said.
Right behind Barnett on the leaderboard was junior Ty Morral. Morral shot a 77 to claim 4th overall and junior Joseph Propheta tied for 9th with an 84 to round out the leaders in the top 10 on the afternoon. Senior Brandyn Tuttle was the final Hornet to make the cut as he finished tied for 15th overall with an 87. Sophomore Brock Hamblin shot a 97 to round out the Hornets' individual scores.
Since Barnett and Tuttle were freshman both wanted to bring Wellsboro a district title. Both had been a part of district championship teams prior, Barnett in 2015 with football and Tuttle in the winter with boys basketball, but both wanted to give the golf team their due.
"This is an achievement that I will never forget," Barnett said. "I've never been more proud of a team, coaching staff, and myself individually as I do bringing home the first district title in so many years. The team played great and there's no way we could've done it without Ty, Joe, and especially Brandyn who's been there since day one."
"It was huge to accomplish it," Tuttle said. "We were talking all season about how we were so close last year and that we had to take this year one step at a time. We started with the league title and now the district title. It's just an awesome feeling to succeed at what we planned to do at the beginning of the season."
Now that the team title is secured the Hornets turn their attention to day two of District play, back at Williamsport Country Club this morning, to keep their post-season hopes alive. Wellsboro also has one final regular season match still to play at their home course of Tyoga Country Club on Tuesday, October 9, after it got rained out last week.
"Friday will be a day for the kids to accomplish some more goals individually," continued Macensky. "Possibly winning an individual District title and advancing to Regionals."
Tee times beging at 9:00 a.m. at Williamsport Country Club to decide the individual District IV champions and Regional qualifiers.