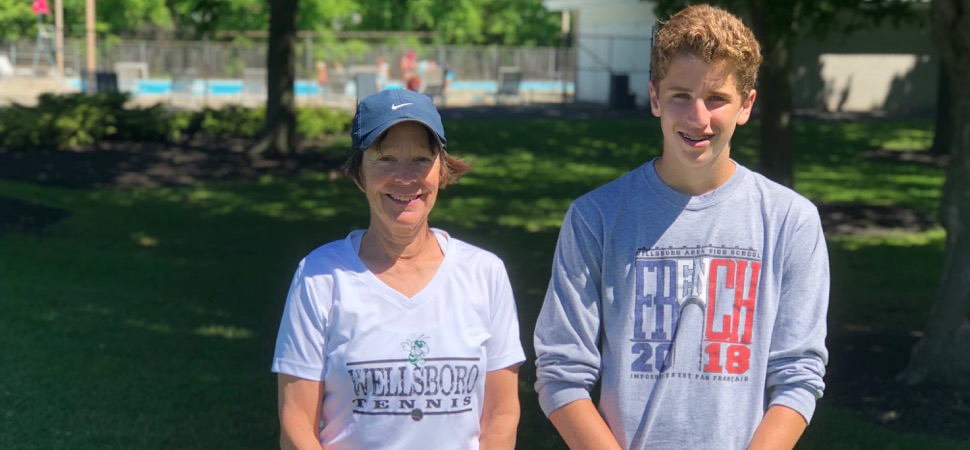 Hoffman, Poirier named All-Region tennis Newcomer, Coach of the Year
By: Ed Weaver | NTL Sports | June 15, 2018 | Photo courtesy Maureen Poirier
Freshman Will Poirier and Boys Tennis head coach Margery Hoffman were named the Newcomer of the Year and Coach of the Year earlier in the week by the Towanda Daily Review.
"I am pleased to be named all-region tennis coach of the year. I was surprised to learn that I received this award over all the girls and boys tennis coaches in the region for the fall and spring of 2017-2018. That's pretty neat," said head coach Marge Hoffman. "The Wellsboro boys tennis team won more games this year than in my previous three years combined. We went out to win the NTL this year, but I was not expecting us to be as dominant as we were. We lost some key players to graduation, but we have strong underclassmen that will take their places next year. My strategy has been to develop a large, deep team by giving many players a chance to play, and it is paying off."
The Hornets finished 14-2 on the season and swept the NTL with a perfect 6-0 record this season under Hoffman.
Poirier, in his first year, finished with a perfect 10-0 record in singles competition and was 5-1 in doubles with partner sophomore Luke Leach.
"I started playing tennis last summer for fun and the boys on the team convinced me to play for HS team this spring. It is a great feeling to know that when I started the season I was very inexperienced but quickly learned the game. The team had a very successful season and the seniors will be missed."
Also being named to the All-Region team, for both boys and girls, were juniors Nate Redell, Kristen Bair, and Frankie Rexford, sophomores Georgia Macensky and Abigail Colton, seniors Gabe Leach, Noah Fitch, and Ryan Stough, and Luke Leach.
Redell and Bair were both first team singles slections, while Rexford, Macensky, and Colton were second team singles selections. Gabe Leach and Fitch were first team doubles picks and Stough and Luke Leach were second team doubles picks.
WellsboroAthletics.com would like to congratulate Coach Hoffman, Will, Nate, Kristen, Frankie, Georgie, Abigail, Gabe, Noah, Ryan, and Luke on being named to the All-Region tennis team.