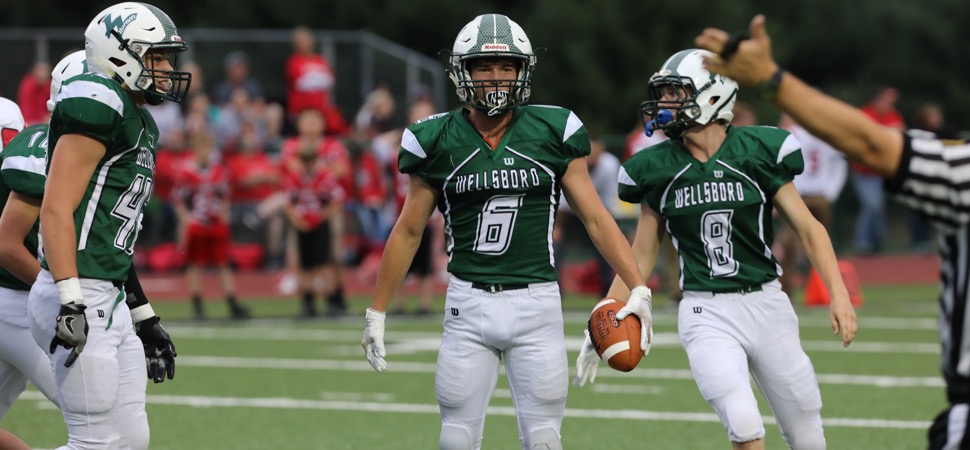 Button's career night leads Hornets past Troy
By: Ed Weaver | NTL Sports | September 1, 2018 | Photo courtesy Dr. Robert Bair
Two fumbles recoveries, six tackles, two punt return touchdowns, and one receiving touchdown. That was senior Tanner Button's stat line as the Hornets improved to 2-0 following a 36-8 victory over Troy on Friday, August 31.
"It was awesome. I had a night, I was lucky," Button said post-game. "Last Friday Silas (Wagaman) had a game and this Friday I had a game."
The senior played the best game of his life in only his second year of football. As a freshman Button ran cross country. He played soccer as a sophomore before coming out for football last season as a junior.
Button's three touchdown's combined with the Hornets' swarming defense, which caused six Trojan turnovers on the night (5 fumbles and one interception), led Wellsboro to their first NTL Large School victory of the season and 23rd straight regular-season win.
Wellsboro went right to work on their opening drive as junior Karter Witmer connected with fellow junior Aidan Hauser on a short pass, but Hauser turned it into a gain of 40 down to the Troy 28-yard line. Three plays later on fourth down Witmer found junior Silas Wagaman for a 23-yard touchdown, which Wagaman ripped out of the Trojan defenders' hands for the early score. Button's extra point split the uprights and the Hornets led 7-0 with 8:02 remaining.
For the next seven minutes and change neither team scored as both teams turned the ball over. Troy lost a fumble on the ensuing kickoff that setup the Hornets with excellent field position at the 14, but an interception killed the drive. Once the Trojans took back over Bailey Cohick ripped off a 48-yard run into Wellsboro territory but the Hornet defense buckled down and forced a turnover on downs. Wellsboro's following drive ended the same way Troy's previous drive did, on a turnover on downs, before the Wellsboro defense again forced the Trojans to turn the ball over on downs.
Both Wellsboro's and Troy's next drives ended in punts. That's when Button struck for his first touchdown after fielding Cohick's punt at the Troy 40. Button found a seam, caught the sideline, and sprinted he way for Wellsboro's second touchdown of the evening. His kicked missed, but Wellsboro went up 13-0 with 7.7 seconds left in the first. Wellsboro took their 13-0 lead into halftime as both teams exchanged drives during the second quarter.
Both teams traded drives to start the second half before the Hornets increased their lead midway through the third quarter. After taking over at their own 47, Witmer found Hauser again for another 40+ yard pass play down inside the Troy 10. The Hornets went backwards from there, however, but sophomore Zach Singer converted a 30-yard field goal to give the Hornets a 16-0 lead with 5:35 remaining. Another Troy fumble setup the Hornets with great field position, but they were forced to punt after the Hornets defense held them to just five plays.
That's when Button returned his second touchdown of the game. Button fielded the punt at the 47 and took it to paydirt to make it 22-0 with 1:13 left in the third. Button would score for the third time to start off the fourth quarter after the Hornet defense caused yet another fumble. Button caught a 57 yarder from freshman Isaac Keane with 11:43 remaining in the game to increase the Hornets' lead to 29-9 after Singer's extra point.
Troy broke the Hornet shutout with 6:44 remaining on a one-yard run by Cohick, then followed it with a two-point conversion to cut the game to 29-8. The Hornets, however, added one more score with 55 seconds left in the game. After a long run by Keane, that went down for 18 yards after getting called back on a holding penalty, the Hornets took advantage of four Trojan penalties before Keane finally dialed his own number from a yard out. Singer made his final extra point attempt to seal the Hornets' 36-8 victory.
Witmer finished the night 8-for-18 for 141 yards with a touchdown and two interceptions while Keane was 2-for-3 for 61 yards and a score. Hauser led all rushers with 64 yards on 10 carriers and caught 4 passes for 88 yards. Wagaman finished with 4 catches for 45 yards while Button caught 2 passes for 69 yards.
Defensively junior Tyler Hancock had 13 tackles and a recovered fumble while senior Hunter Brown recorded 11 tackles and recovered a fumble. Junior Zach Florio made 9 stops and forced a fumble, junior Alex Burrell made 8 tackles, and Button had six tackles.
"We were able to score tonight in a lot of different facets which has been different for us the last few years," said head coach Matt Hildebrand. "We scored through the kicking game, through the air, we had a quarterback run one in. We're playing some guys and still figuring some things out but at the end of the night we did some good things but definitely have some film to look at."
Next up for the Hornets are the Montgomery Red Raiders on Friday, September 7. The game will also be "Hall of Fame Night" as the Wellsboro Sports Hall of Fame inducts four new members into the Class of 2018 at halftime.