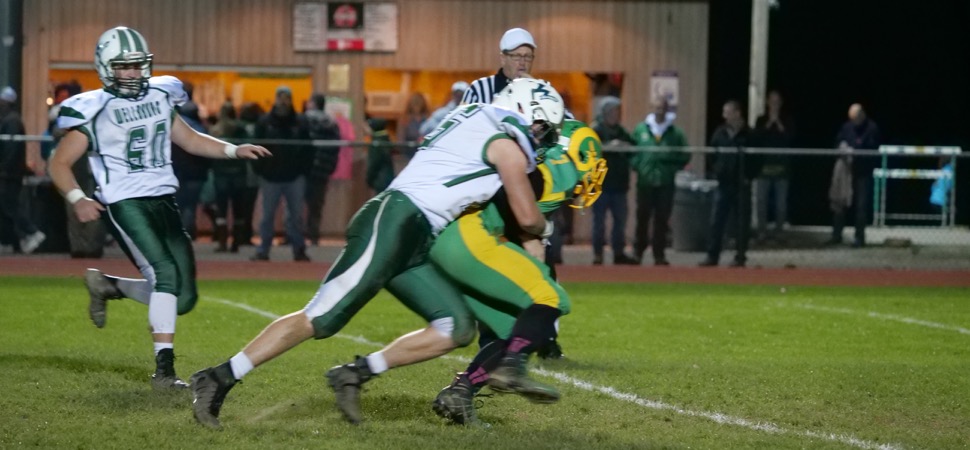 Brown repeats as NTL Defensive Player of the Year
By: Ed Weaver | NTL Sports | December 24, 2018 | Photo courtesy Dr. Robert Bair
Senior Hunter Brown was named the Northern Tier League's Large School Defensive Player of the Year as the league released their All-Star teams on Tuesday, December 18.
Brown, last year's Large School DPOY, had an even better senior season as he defended his title. Brown not only led the Hornets in tackles (105) from his defensive end position but he also led the team in forced fumbles (4), recovered fumbles (3), and sacks (6). Brown's six sacks during 2018 broke Wellsboro's career sack record (14) to be the Hornets' all-time leader.
He also recorded a pick-six at Wyalusing and caught 4 passes for 73 yards and a touchdown against Troy in the District IV Class AA playoffs.
Brown, who was also a first team offensive linemen and defensive end, finished his Wellsboro career with 228 tackles, 3 interceptions (83 yards), 7 pass deflections, 5 forced fumbles, 11 recovered fumbles, and 17 sacks.
"Hunter has worked extremely hard his entire career and to be named Defensive Player of the Year for the 2nd time is a great honor," head coach Matt Hildebrand said. "He has been dominate over the last 2 seasons and fellow NTL coaches recognize that. Myself and the rest of the coaching staff are all very proud of Hunter and what he has accomplished and look forward to him having a very bright future at the next level."
Joining Brown on the NTL Large School Division All-Star team is junior Aidan Hauser, junior Silas Wagaman, senior Robert Brown, junior Tyler Hancock, and junior Zach Singer.
Hauser was named a 1st team running back following his career year of 1,578 yards and 17 touchdowns, the 2nd best single-season (rushing yards) in Wellsboro history. Hauser also threw a touchdown, caught 10 passes for 111 yards, returned 6 kicks for 236 yards and two touchdowns, and returned 10 punts for 191 yards and a touchdown.
Wagaman was a 1st team receiver and 2nd team defensive back. Wagaman led Wellsboo with 27 receptions for 485 yards and 7 touchdowns. Defensively he made 44 tackles, 4 interceptions, and 10 pass breakups.
Robert Brown was named 1st team at linebacker. After splitting time between both defensive tackle and linebacker during 2018, Brown recorded 92 tackles, broke up 2 passes and forced 3 fumbles. Brown accumulated 359 career tackles (2nd all-time), 10 career forced fumbles, and 9 sacks.
Hancock also picked up two awards, being named a 2nd team offensive and defensive linemen. Hancock finished with 54 tackles, recovered 2 fumbles, and had one sack on the defensive side of the ball while helping anchor the offensive line to produce 2,196 yards from the Wellsboro backfield.
Singer, in just his second year of kicking, was named a 2nd team kicker. Singer finished the season 34-of-43 (.791) in extra points and 4-of-5 (.800) in field goals with a long of 33 yards.
View the complete 2018 NTL All-Star Football teams.